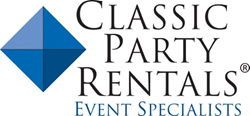 Pebble Beach, CA (PRWEB) August 17, 2015
Classic Party Rentals, the nation's leading event rentals and services provider, was tapped for the seventh consecutive year to help build out the world's most coveted automotive show, Pebble Beach Concours d'Elegance. Held on the eighteenth fairway of the renowned Pebble Beach Golf Links on August 16, 2015, the event is a destination for automotive enthusiasts worldwide.
"You couldn't ask for a better backdrop to showcase our exceptional products and designs than the Pebble Beach Concours d'Elegance," says Susan Kidwell, Vice President/General Manager, Classic Party Rentals San Francisco. "The people in attendance are connoisseurs of art and technology and expect to be met with the finest surroundings while viewing the most rare and beautiful automobiles in the world. We aim to help deliver that experience."
Throughout the 30-plus eye catching specialized and traditional structures erected for brands such as Mercedes and Cadillac, Classic set up their ultra stylish designer8* Furniture for guests to lounge on. The Mercedes tent was a custom 15-meter by 42-meter DTM structure with a unique sloping curved roofline sitting atop an elevated deck overlooking phenomenal views. The front doors of the structure were inset into the cantilevered front wall system creating a one-of-a-kind look to showcase their luxury automobiles. The Cadillac tent was a 10-meter by 30-meter custom JET structure that allowed for distinctive branding opportunities unlike any other structure. The high profile design mimicked a showroom -- an ideal display for their high end product.
About Classic Party Rentals
As the nation's leading event rentals and services provider with over 25 locations, Classic Party Rentals is the backbone for more than 150,000 events and celebrations per year. Their network of over 2,000 award winning event professionals is renowned for providing exceptional client services with a fresh and innovative approach to handling the most important events in the country. Boasting over 9 million choices from an unparalleled range of inventory that includes exclusive furniture, china, specialty linens, lighting, heating, flooring, tenting and more, Classic Party Rentals creates events that define the most remarkable moments in time. For more information, please visit http://www.ClassicPartyRentals.com.