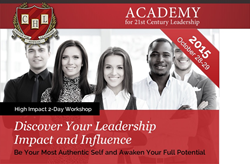 The CHL Academy workshop was created in direct response to the identity crisis that Hispanics are faced with at work, which makes it difficult for them to be their most authentic selves.
Irvine, CA (PRWEB) August 18, 2015
Amica Mutual Insurance Co., the nation's oldest mutual insurer of automobiles and a national writer of auto, home, marine and umbrella insurance, has announced its sponsorship of a high-impact, two-day workshop for up-and-coming Hispanic leaders and professionals. "Discover Your Leadership Impact and Influence," to be held in Irvine, California, on Oct. 28-29, is a proven program for enabling Hispanics, the fastest-growing workforce group in the U.S., to be their most authentic selves in the workplace and awaken their full potential as current and future leaders.
"You've likely heard the numbers: $1 trillion in buying power in 2010 and rising to more than $1.5 trillion next year. A population of 57 million and growing. I'm talking about U.S. Hispanics, a consumer segment that's on the radar of nearly every major U.S. company," said Eduardo Naya, an assistant vice president in the marketing department at Amica Insurance. "At Amica, we've taken notice. Over the past several years, we have significantly increased our marketing efforts to the ever-expanding U.S. Hispanic consumer."
The workshop, sponsored by Amica, is the flagship leadership program from the Center for Hispanic Leadership (CHL) Academy, developed and taught by founder Glenn Llopis, a nationally recognized thought leader, best-selling author and contributing writer to Forbes, Harvard Business Review and the Huffington Post.
Llopis states, "The CHL Academy workshop was created in direct response to the identity crisis that Hispanics are faced with at work, which makes it difficult for them to be their most authentic selves. This impacts their ability to lead and perform at their highest levels, and as a result, Hispanic professionals have more difficulty getting promoted, advancing in their careers and contributing to the organizations they serve in meaningful and purposeful ways."
The CHL Academy workshop has successfully helped thousands of Latino recent graduates and working professionals to accelerate their visibility and leadership advancement in a workplace where the vast majority (95 percent) of non-Hispanic supervisors are unaware how cultural values influence the most natural ways Hispanics think, act and perform as leaders. This perpetuates the identity crisis that Llopis speaks of, which he says helps to explain why Hispanics perform at only 40 percent of their full potential – thus hindering their advancement into more senior leadership roles at a time when the cultural demographic shift™ is changing the competitive landscape.
"U.S. Hispanics will change the profile of American society over the next four decades," Naya said. "The Hispanic population will grow much faster than other segments, and Hispanic consumers will represent an increasing percentage of the American consumer base. As a thriving U.S. insurance company, we have taken notice and are positioning ourselves for this ever-expanding opportunity. By understanding this significant shift in the U.S. population, Amica is in an excellent position to meet the evolving needs of our changing landscape.
"It doesn't end there," Naya continued. "The U.S. Census reports that the Hispanic population accounts for nearly 15 percent of the U.S. labor force and is projected to reach almost 20 percent by the year 2020. In addition, higher-paying management and professional occupations are the fastest-growing job categories for Hispanics. Additionally, nearly 75 percent of U.S. Hispanic households speak Spanish some or most of the time, so Amica has hired many Hispanic bilingual service representatives. Being able to speak to our customers in their preferred language, in this case Spanish, goes a long way in building enduring relationships."
For many, the solution for preparing for the cultural demographic shift can be found in CHL's cultural characteristics framework, which is the basis for the workshop and has been 100 percent endorsed by prior workshop participants, including Target, Walmart and City of Hope. Through this framework, Llopis teaches Hispanic professionals how to be high-performance leaders using group-think situational analyses, case studies and personal branding exercises designed to awaken the authentic self. The Academy workshop combines real-world workplace scenarios with "gamification" techniques to test and improve one's ability to make effective decisions, enable the full potential in others and solve for the most promising opportunities.
"There are six characteristics that define CHL's cultural framework, and once recognized and engaged, they help Hispanics in the workplace become more decisive, inclusive and forward-thinking leaders," explains Llopis. "They also help them achieve proficiency in what I call the Four Opportunity Mastery Skills. And here's the really great news. These four skills – and the six characteristics that come most naturally to Hispanic professionals who learn to let their cultural values influence the ways they lead and in turn influence others – define the requirements to be a 21st century leader."
For more information about attending the workshop, please contact Sandy Sickler at sandy(at)glennllopisgroup(dot)com.