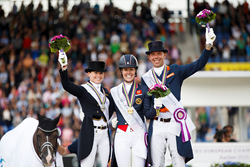 I felt I just had a good ride from start to finish."
(PRWEB UK) 15 August 2015
Defending champions, Great Britain's Charlotte Dujardin and her much-loved superstar gelding Valegro, made it two-in-a-row when clinching Grand Prix Special gold at the FEI European Dressage Championships 2015 in Aachen (GER) this afternoon.
On a day of huge tension, sizzling excitement and wonderful entertainment in the hallowed Soers arena, the 30-year-old rider managed to lay to rest the memory of her only significant defeat in the incredible career she has enjoyed with the horse she calls Blueberry. All three medals were hard-earned, and the record-breaking British duo set yet another new FEI European Dressage Championships Grand Prix Special target score of 87.577, overtaking the 85.699 they set in Herning (DEN) two years ago.
There was plenty for the host nation to celebrate too when Kristina Bröring-Sprehe recovered from a much less impressive test in the team event to really show what she is made of to claim silver with Desperados FRH. The Netherlands' Hans Peter Minderhoud and Glock's Johnson TN took bronze, but it was bitter-sweet for the Dutchman, as his life-partner and team-mate, Edward Gal, who lifted The Netherlands to team gold on Thursday, was eliminated when last into the arena with Glock's Undercover.
Set the standard
Perhaps the bravest performance of the competition was produced by Denmark's Anna Kasprzak who set the early standard when 12th into the arena with Donnperignon. The 25-year-old was kicked in the chest by her 16-year-old gelding after Tuesday's horse inspection. "I was in the hospital, nothing was broken but I have a lot of pain", she said after posting a good mark of 73.473 this afternoon. "In the team comp it was difficult, it hurts to breathe, but today I am really satisfied, we really did our best." And she was still out in front when Germany's Isabell Werth and Don Johnson FRH set the arena alight an hour later.
Werth's popularity with her knowledgeable home crowd is second to none, but they gasped in disbelief when, instead of going into half-pass right, she asked Don Johnson FRH for walk and he obediently obliged. She corrected her mistake very quickly and then, demonstrating exactly why she has such a legion of fans who admire her sheer determination and consummate skill, the multi-medalled rider just carried on calmly with a big smile on her face.
She laughed about it after putting a mark of 75.924 on the board. "What happened? Maybe I'm too old or maybe I'm too blonde, you can choose whatever you want!" she said. "It was really stupid, but remember in Herning three of the medallists went the wrong way, and today I think maybe it was a bit of entertainment for the spectators!"
The second session ended with a lovely ride from Sweden's Tinne Vilhelmson Silfven, who raised the bar once again when posting 76.148 with the ever-elegant Don Auriello, but the medallists all came from the final group of 10 in which Carl Hester was first to surpass the Swedish rider's target. His massive gelding, Nip Tuck, had turned intermittently shy on him during the team test, but today produced a much more confident performance.
"He was brilliant", he said afterwards. "For such a big horse, I have to be able to make quite a lot of adjustments to keep him balanced at the moment, but he absolutely did everything I asked, he let me help. I'm smiling from ear to ear.... he's gone and nailed it for me today."
Topped the leaderboard
His score of 77.003 topped the leaderboard until Bröring-Sprehe set off with Desperados FRH who produced one of the few flawless tests of the competition. Hopes had been pinned on the fabulous black stallion and his 28-year-old rider to retrieve the situation when things didn't go Germany's way in the team competition. It didn't happen then, but the pair were completely in tune today, floating through extended trot and presenting a really attractive picture. When a massive 83.067 went up on the scoreboard the cameras swung to German Chef d'Equipe, Monica Theordorescu, and the tears of joy were clearly visible in her eyes.
"They looked so beautiful together, and I'm so very proud", Theodorescu said afterwards. "I train Kristina at home and she is such a nice and quiet person. I knew what a nice job they could do, and today they were so harmonious, it made me very happy!" the three-time Olympic team gold medallist said.
The German's advantage didn't last long however, as Dujardin, looking nervous but determined, strode down the centre line and set about the business of wowing the crowd with Valegro's trademark piaffe, passage and extravagant extended trot. All of the Ground Jury had placed Bröring-Sprehe in pole position a few minutes earlier, and they were in total agreement once again when coming up with a final mark of 87.577 for the British duo, who took over at the head of affairs despite a mistake at the end of the one-tempi changes.
Spain's Beatriz Ferrer-Salat has enjoyed a fantastic week, ensuring her country's berth at the Rio 2016 Olympic Games with a brilliant performance in the team event. And once again today she produced a sparkling test from the 14-year-old gelding Delgado who posted 77.395 to temporarily take bronze medal spot. But the penultimate partnership of Hans Peter Minderhoud and Glock's Johnson TN edged them out when scoring 79.034, and now only his Dutch counterpart, Gal, was left to challenge for gold.
Feeling ill
It had been an uneasy 24 hours in the Dutch camp leading up to today's competition however, with team gold medallists Gal and Minderhoud both feeling ill. And Gal was clearly having problems with Glock's Undercover, who was reluctant to even enter the arena to begin his test this afternoon. The Dutchman persevered, but the gelding was so over-excited he piaffed instead of doing his first halt, and the tense test was finally drawn to a premature close when the Judge at C, Andrew Gardner, rang the bell and stepped into the arena to tell Gal that he couldn't continue because of blood in the horse's mouth.
Bronze medallist, Minderhoud, admitted afterwards that he was feeling weak during his test. "My legs felt a bit like spaghetti" he said, but although he was deeply disappointed for Gal, he was delighted to have picked up his very first individual European medal. Silver medallist, Bröring-Sprehe, said she enjoyed herself much more today. "It was easy to ride", she said. "On the first day there was a lot of pressure, but today Desperados was very concentrated and I had such a good feeling in passage and piaffe!"
A bit laid back
Gold medallist Dujardin talked about her determination going into the arena today. "On Thursday (team competition) I was a bit laid back and I was just going in there for a clear round, but because I made mistakes on Thursday I was like right, that's it, I'm sick of this, and I wanted to go in there and better my performance. I know Valegro can do much better than that...I felt I just had a good ride from start to finish."