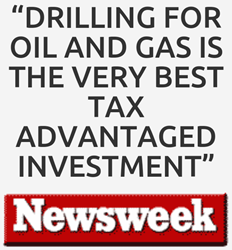 The oil business is one of the only businesses in the world where it's possible to earn a profit and get a tax deduction in the same year.
Austin, Texas (PRWEB) November 30, 2016
As the last month of the year gets underway, investors are focused on how to best reduce 2016 tax liabilities and figure out how to best position themselves for 2017. In recent years, the number of investors considering oil well investments has grown significantly, yet still most Americans think the only way to invest in oil is through the stock market, when in fact, it's actually possible to share in the potential profits and tax deductions of the oil industry, right alongside of oil companies.
The ability to own and invest in oil is something uniquely American. The United States is one of the only countries in the world where private citizens can own natural resources.
In an effort to make the United States less reliant on foreign sources of oil, and to offset the risk associated with drilling domestic oil wells, the U.S. Government offers oil investors significant tax advantages that are unique to oil investments.
Oil and gas drilling programs are specifically designed to generate various tax deductions from drilling and operating wells. These deductions include intangible drilling costs (IDC), depreciation and operating costs. In addition, when production is achieved, investors can claim a depletion deduction with respect to their share of the Venture's income from the oil and gas produced. That makes oil investments the best tax deductions on the market, because those tax deductions actually come on top of producing wells.
Drilling for Oil and Gas Is the Very Best Tax Advantaged Investment (Newsweek Magazine)
CEG Holdings, LLC., a Texas independent oil company, with a combined 70 years of oil industry experience, believes the best place to invest right now, to both maximize tax deductions and potential profits, is the oil patch.
For accredited investors with a degree of risk tolerance, oil well investing can lead to some pretty big profits and tax deductions. Additional information about potential profit and tax deduction opportunities can be found here- http://www.cegholdings.com/current-projects.html
CEG Holdings, LLC. Company Overview:
CEG Holdings, LLC., is an acquisitions company based in Austin, Texas, with over 70 years of energy industry experience, that specializes in buying undervalued oil & gas investment properties, with accredited individual & institutional investors. The corporate office is located at 317 Ranch Road 620 South, Suite 205, Austin, Texas, 78734. Our specialty is participating in lower risk, tax favorable oil and natural gas field development and exploratory drilling programs.
CEG Holdings is typically able to participate alongside large public companies drilling in productive areas where additional reserves are likely to be discovered. After 70 years of energy industry experience, we have learned what works and what does not. Following this disciplined pre-screening approach, which includes: utilization of 3D seismic technology, detailed field analysis, state record searches, working with the right oil well drilling companies, independent third party reviews and partnering with proven industry leaders, provides the highest odds for success.
CEG Holdings, LLC.
317 Ranch Road 620 south
Suite #205
Austin, TX 78734
(800) 830-3029
info(at)cegholdings(dot)com
http://www.cegholdings.com
The information contained herein is for informational purposes only. Nothing contained herein is an offer to sell, or a solicitation to sell securities.