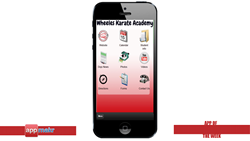 Wheeles Yoshukai Karate is a shining example of how anyone can easily make an app themselves today without any technical knowledge.
New York, NY (PRWEB) September 01, 2015
AppMakr, a leading DIY mobile app builder, today announced that the Wheeles Yoshukai Karate is the company's "App Of The Week" for July 26th - August 1st.
Each week, AppMakr features one app from the thousands published using our app building tool, called The Machine. This app was selected because it demonstrates the quality of content, design and relevancy that mobile apps can bring to groups trying to make a difference in their community.
With more than 1 Billion smartphones now active in the world, 84% of those users are spending at least 1 hr each day on their smartphones, the base on potential mobile users for the Wheeles Yoshukai Karate is massive and growing quickly by the day. It was this potential that motivated AppMakr to create an easy drag-and-drop app builder platform that enables anyone to create an app like the Wheeles Yoshukai Karate without the knowledge of coding.
The Wheeles Yoshukai Karate and thousands of small to large businesses, schools, blogs, sports teams and community groups have selected the AppMakr DIY app maker platform to create and launch their mobile app for Android, iPhone and over 5,000 different models of HTML5 compatible smartphones.
This mobile app is a real simple solution to reach their students everywhere across Alabama. As their trainees are mainly high school and college students, they need to ensure that they are able to train them exceptionally. From the app, users can easily access their full site where users can check out more information about Wheeles Yoshukai Karate, their instructors, and testimonials.
They've also included a calendar of events where users can easily check out class schedules, competitions and events. Another essential component of Wheeles Yoshukai Karate app is their Student Info where users can access the Student Terminology Handbook, Wheeles Karate Handbook, and instructions on how to tie their belt. Dojo News, Photo Gallery, Youtube videos and a Google Map to get directions to their Dojo from anywhere across Alabama are also included in the app.
To create your own mobile app, and have a chance at being named App Of The Week, go to http://www.appmakr.com/ and get started today.
About AppMakr
AppMakr is the largest DIY mobile app creation platform in the world providing a range of affordable marketing solutions to all small businesses, schools, community groups and individuals. By servicing the long-tail of niche interests with low-cost apps, AppMakr has become the largest DIY publisher of mobile apps in the world. The platform creates true native iPhone and Android mobile apps, as well as HTML5 mobile websites compatible with thousands of smartphone models. Available in 15 languages for as little as $1/month, with hundreds of ways to customize your new mobile app. Functions include: Social Feeds, Live Video Streaming, Live Chat Rooms and the ability to secure apps through private access and content filters. AppMakr is the easiest way to mobilize your business, blog or community group.
To learn more about how AppMakr is transforming the Mobile App Economy, please visit http://www.appmakr.com and follow https://www.facebook.com/AppMakr on Facebook as well as @AppMakr on Twitter.
About Wheeles Yoshukai Karate
Wheeles Karate Academy's mission is to be the best martial arts school in Alabama by providing the best instruction to their students in an enviroment that encourages growth, confidence, personal acheivement, physical fitness with fun and excitement.
To download the Wheeles Yoshukai Karate app for your mobile phone, go to: http://apps.appmakr.com/wheelesyoshukaikarate
To learn more about Wheeles Karate Academy please visit: http://www.gulfcoastkarate.com/