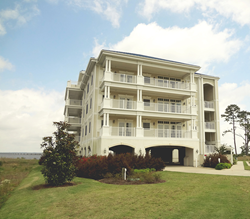 Capital Resorts Group is excited to become a part of the Edenton community as a growing employer and good corporate citizen.
ST. PETERSBURG, Fla. –
(PRWEB) August 15, 2015 -- Construction of a new property, named Waterside Resort near Edenton, North Carolina on the Albemarle Sound, promises to bring new jobs and vacationers to the area, resulting in a positive impact to the local economy. The property, owned by Capital Resorts Group, a leader in the vacation ownership industry, is set to open Phase One of the resort in 2016. The opening of Waterside Resort will initially provide jobs in the areas of hospitality, construction, housekeeping, sales, maintenance and security with potential for future growth as the property develops.
"Capital Resorts Group is excited to become a part of the Edenton community as a growing employer and good corporate citizen," said Vice President of Resort Operations Barney Barber. "From Edenton's historic charm and distinct culture to its endless water activities, scenic beauty and family attractions, the area has become an established vacation destination for families over the last few years and we look forward to the opportunity for our Capital Club owners to experience this great town. It is our hope that Capital Resorts Group's presence in Edenton will only further define the area as a thriving tourist destination."
Capital Resorts Group's construction of Waterside Resort is planned to be developed in phases, each one offering accommodations for different vacation styles. Phase One will provide vacationers with access to 12 deluxe two and three bedroom condominium-style residences. Each will feature separate living and dining room areas, a luxury kitchen with modern appliances and balcony overlooking the sound. All of the suites will be designed to reflect the coastal style of the area. In addition to the condos, newly constructed two and three bedroom coastal cottages will be added. Plans for more coastal cottages in Phase Two are in the design process and are expected to be finalized soon.
Designers of Waterside visualize the completed project as a low country, luxury resort. Amenities will include a clubhouse, indoor and outdoor pool, boat ramp, fishing dock, walking/bike paths, fire pits, outdoor grills, sports court and children's play areas. The land around the resort will be populated with native plants that do not require irrigation, in order to create a natural landscape setting and habitat for native and migratory birds.
Waterside Resort is located just across the bay from Edenton along 42 acres of land directly on the shores of the Albemarle Sound, the largest freshwater sound in North America. The almost 300 year old town of Edenton was named by Forbes as one of "America's Prettiest Towns." One of the largest draws about the area, is that it acts as a gateway to the Outer Banks, a major tourist destination in North Carolina.
About Capital Resorts Group: Capital Resorts Group is a full-service sales and marketing company offering a collection of services across the vacation ownership industry to support HOA's and management companies. Owners with Capital Resort enjoy flexible, points-based travel to a variety of sought-after vacation destinations, with each resort featuring luxury accommodations and "Distinctly Different" amenities and benefits.
Copyright 2015 Capital Resorts Group, LLC. All rights reserved.
All marks are registered trademarks of the respective owners.
###