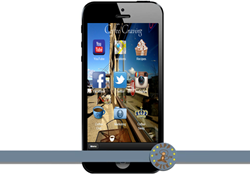 It's amazing how CoffeeCraving have really harnessed the power of mobile to service their customers.
New York, NY (PRWEB) September 13, 2015
From shopping the coffee world market, to downloading coffee recipes from around the world, to educating coffee shops about how to engage the world's coffee market, this app stood above the rest on Infinite Monkey's do-it-yourself app creation platform.
Since 2011, Infinite Monkey's has chosen an app each week that sets itself apart from the rest. CoffeeCraving was chosen because it is a great example of how you can deliver various information on several topics in an organized and fun way.
With one look at the CoffeeCraving app, users can visually see all the interesting components included in the app, like Youtube videos featuring coffee shops, coffee varieties from around the world, fundraising events, even information about joining a coffee club among other useful information for coffee business owners and coffee enthusiasts alike. Another great feature they've included are quick and delicious coffee recipes from around the world.
Other sections of the app include their social media channels like Facebook, Twitter and Instagram where they share their latest updates and announcements. There's also a quick link to their Coffee Swag section, where you can check out funny coffee mugs, nostalgic decor, and information about the coffee world market.
About Infinite Monkeys
Infinite Monkeys is the largest DIY mobile app creation platform in the world, providing a range of affordable marketing solutions to small businesses, schools, community groups and individuals. By servicing the long-tail of niche interests with low-cost apps, Infinite Monkeys has become the largest DIY publisher of mobile apps in the world. The platform creates true native iPhone and Android mobile apps, as well as HTML5 mobile websites compatible with thousands of smartphone models. Available in 15 languages for with hundreds of ways to customize from functions including: Social Feeds, Live Video Streaming, Live Chat Rooms and the ability to secure apps through private access and content filters. Infinite Monkeys is the easiest way to mobilize your business, blog or community group.
Infinite Monkeys is also featured in a new video by blogger Harrison Lloyd showing 3 simple ways for anyone to create their own mobile app. http://bit.ly/1gKhwjK
To learn more about how Infinite Monkeys is transforming the Mobile App Economy, please visit http://www.infinitemonkeys.mobi and follow @oo_monkeys on Twitter.
About CoffeeCraving
CoffeeCraving is a mobile app designed to share information about the Coffee Corner Movement, an organization that aims to put coffee profits back into the pockets of American Small Business Owners. The Coffee Craving app's objective is to change the way America drinks Good Coffee.
CoffeeCraving is a new mobile app available for Android, iPhone and HTML5 compatible smartphones. It is the mobile presence of the CoffeeCraving website - and was created with the Infinite Monkeys mobile appmaker tool.
To download the CoffeeCraving app for your mobile phone, go to: http://apps.monk.ee/coffeecraving
To learn more about CoffeeCraving, please visit: https://twitter.com/CoffeeCornerApp