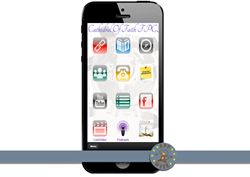 The functionality and rich use of Infinite Monkey's features are why this on-the-go mobile app was chosen for our App of the Week.
New York, NY (PRWEB) September 18, 2015
Infinite Monkeys, a leading do-it-yourself app maker has named Cathedral Of Faith FPCI because the app stood out for its creativity and great functionality.
Each week Infinite Monkeys selects one app to highlight on our platform. As more people turn to information gathered from their smartphones, even entities of faith are finding it beneficial to create an app for their members and community. The functionality and rich use of Infinite Monkey's features are why this on-the-go mobile app was chosen this Week. Cathedral of Faith FPCI users can access their full website through the app, an online copy of the Bible and also a Map so that anyone can reach them from anywhere across the state of Georgia. The app also has a personal connection feature where participants can write on a social wall that lets anyone post a message publicly within this app.
The app also shares the ministry's contact number, important announcements and videos. Another essential component of this app is an online form that you can use to send information or ask questions to the ministry's administrative staff. This app is also meant to keep all their members informed and up to date on their church events so they've included a link to their Facebook page.
Keeping pace with the technology movement Cathedral of Faith FPCI is exactly the kind of do-it-yourself app creator that motivated Infinite Monkeys to create an easy drag-and-drop app builder platform. To create your own mobile app, and have a chance at being named App Of The Week, go to http://www.InfiniteMonkeys.mobi and get started today.
About Infinite Monkeys
Infinite Monkeys is the largest DIY mobile app creation platform in the world providing a range of affordable marketing solutions to all small businesses, schools, community groups and individuals. By servicing the long-tail of niche interests with low-cost apps, Infinite Monkeys has become the largest DIY publisher of mobile apps in the world. The platform creates true native iPhone and Android mobile apps, as well as HTML5 mobile websites compatible with thousands of smartphone models. Available in 15 languages for as little as $1/month, with hundreds of ways to customize your new mobile app. Functions include: Social Feeds, Live Video Streaming, Live Chat Rooms and the ability to secure apps through private access and content filters. Infinite Monkeys is the easiest way to mobilize your business, blog or community group.
Infinite Monkeys is also featured in a new video by blogger Harrison Lloyd showing 3 simple ways for anyone to create their own mobile app. http://bit.ly/1gKhwjK
To learn more about how Infinite Monkeys is transforming the Mobile App Economy, please visit http://www.infinitemonkeys.mobi and follow @oo_monkeys on Twitter.
About Cathedral Of Faith FPCI
The Cathedral of Faith Family exists for the sole purpose of evangelizing to the world for Christ and Praying for our Leaders and our Nation. They are also equipping for the ministry, to build the body of Christ.
Cathedral Of Faith FPCI is a new mobile app available for Android, iPhone and HTML5 compatible smartphones. It is the mobile presence of the Cathedral Of Faith FPCI community - and was created with the Infinite Monkeys mobile appmaker tool.
To download the Cathedral Of Faith FPCI app for your mobile phone, go to: http://apps.appmakr.com/cathedral_of_faith_fpci
To learn more about Cathedral Of Faith Family Praise Center International, please visit: http://coffamily.com/