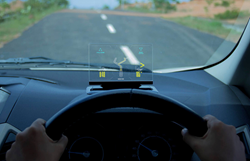 Exploride maximizes safety without compromising on features as a car's infotainment system.
Columbia, MD (PRWEB) August 21, 2015
In today's smartphone age, distractions are plenty in cars while driving. Existing car infotainment systems add to these distractions instead of reducing them. Exploride is launching a new heads up display to combat these problems. It has a transparent screen with a user interface that feels like it is projected on the road. By providing many features like GPS navigation system within the line of sight of the driver, Exploride keeps one's eyes on the road.
The device comes at a time when car accidents have become one of the top killers all over the world. Exploride eliminates the need to use multiple devices for GPS navigation system, in-car infotainment systems and smartphones when on the wheel. Furthermore, the heads up display places everything in the driver's line of sight with a transparent display, keeping the driver focussed on the road without cluttering the field of view.
Exploride, when installed along with the onboard diagnostics, can act as a cars':
-Dashboard that gives insights about speed, fuel, tire pressure e.t.c
-Infotainment system that streams Spotify, Apple music and more.
-GPS navigation system that has both offline and online maps via Google Maps.
-Hands-free calling & texting system.
-Cloud-enabled information system.
-Car's Wi-fi Hotspot (using LTE connection)
-Dash-cam recorder
The company is confident that Exploride will make a huge impact in reducing the number of accidents caused by distractions while driving. In the US alone, 424,000 people were injured in car accidents due to distractions, according to distraction.gov. A huge portion of these accidents are due to the use of smartphones; both reaching out and using it with hands significantly puts one at risk of an accident. Exploride lets one access everything with simple hands-free controls. It also reduces notifications and other distractions by delivering them to the driver without any distraction. Exploride's founder, Sunil Vallath, explained "Distracted driving is deadly, my wife was involved in a car accident partly due to the use of smartphones a couple of years ago. We decided then to bring a product that will significantly reduce these distractions and helps one stay safe while driving."
Exploride also packs the latest in terms of product engineering; A quad-core processor, 4G/LTE connectivity, 2GB of RAM and 8GB of internal storage powers this 6-inch transparent heads up display. Everything is built into a single unit including the IR sensor that detects gesture controls, to keep the line of sight clear for the drivers. Exploride supports both Android and iOS devices and features two high output speakers for a great music listening experience.
Exploride is currently taking pre-orders and the company is offering heavily discounted prices for its early supporters. Exploride can be ordered starting at $239 on IndieGoGo today. This device can be a great alternative to GPS navigation system or infotainment system in one's car. Exploride's launch of its all in one heads up display is an attempt to make everyday driving smarter & safer for everyday drivers.