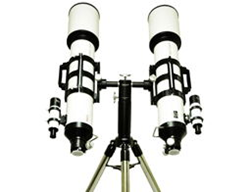 "Santilli Telescope with concave lenses will pull back the curtain of the sky, thus enabling amateur as well as professional astronomers discover new antimatter galaxies." Dr. George Gaines
Tarpon Springs, FL (PRWEB) August 18, 2015
Dr. Ruggero M. Santilli, CEO of Thunder Energies Corporation, announces that the Company has appointed three new members of its Leadership Team to accelerate the production and distribution for the Division of Optical Equipment of the new revolutionary telescope with concave lenses for the detection of antimatter galaxies, and accelerate the advances in the remaining Divisions of Nuclear Equipment and Combustion Equipment (http://www.thunder-energies.com).
Dr. W. George Gaines, the newly appointed President and Chief Operating Officer, has over 40 years of experience in academic and private sectors, specializing in marketing research and new product development. As President and COO of Thunder Energies Corporation, his initial charge is to build the company's Division of Optical Equipment. Dr. Gaines is being joined by Chief Financial Officer, Mrs. Margaret Haberlin-Currey, who is a well-recognized and experienced financial leader in the Tampa Bay area, and Mr. Shannon Hall as Operations Manager, who served as an Engineer in the Marines and has a life-long interest in astronomy (http://www.thunder-energies.com/index.php/ct-menu-item-3).
Dr. Gaines stated, "I'm delighted to be working with Ruggero, Margaret and Shannon and look forward to supporting their efforts on behalf of our company. The mission of the Division of Optical Equipment of Thunder Energies Corporation is to bring to market our revolutionary Santilli Telescope with concave lenses that will pull back the curtain of the sky, thus enabling amateur as well as professional astronomers to detect for the first time new antimatter galaxies." Dr. Gaines added, "Discovery has always been an important motivating factor in astronomy, and with the Santilli Telescope, discovery can happen due to this telescope's unique design." (http://thunder-energies.com/index.php/ct-menu-item-18/11-articles/17-article-8)
In addition to the Division of Optical Equipment, Thunder Energies Corporation also comprises the Division of Nuclear Instruments for bringing to market a novel source of thermal neutrons for scientific, industrial and military uses (http://thunder-energies.com/index.php/ct-menu-item-18/11-articles/19-article-10), as well as the Division of Combustion Equipment that is bringing to market a new clean combustion of fossil fuels with enhanced energy output (http://thunder-energies.com/index.php/ct-menu-item-18/11-articles/18-article-9)
Forward Looking Statements
Certain statements in this news release may contain forward-looking information within the meaning of Rule 175 under the Securities Act of 1933 and Rule 3b-6 under the Securities Exchange Act of 1934, and are subject to the safe harbor created by those rules. All statements, other than statements of fact, included in this release, including, without limitation, statements regarding potential future plans and objectives of the company, are forward-looking statements that involve risks and uncertainties. There can be no assurance that such statements will prove to be accurate and actual results and future events could differ materially from those anticipated in such statements. Technical complications, which may arise, could prevent the prompt implementation of any strategically significant plan(s) outlined above. The Company undertakes no duty to revise or update any forward-looking statements to reflect events or circumstances after the date of this release.
Dr. W. George Gaines
President and COO
Thunder Energies Corporation
Email President_COO(at)thunder-energies(dot)com
Tel/ +1-727-940 3944