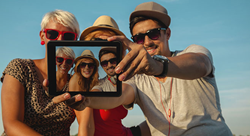 Millennials want brands to understand who they are and what they need as customers and as employees."
Atlanta, GA (PRWEB) August 18, 2015
Pinpoint Market Research and Anderson Jones PR today announced the two agencies cultivated a database of 4,000 U.S. Millennials who volunteered to participate in surveys, interviews, focus groups and other voice-of-customer and voice-of-employee research to share their opinions, behaviors and preferences with brands.
"This demographic knows their power as consumers and employees," said Jennifer Jones-Mitchell, head of global marketing for Anderson Jones PR and chief insights officer for Pinpoint Market Research. "They want to share their views with brands because these are the products and services they buy and the jobs they take. Millennials want brands to understand who they are and what they need."
The database includes men and women aged 18-29 with a near even split between genders (58% female; 42% male) and annual incomes ranging from less than $10,000 to more than $150,000 and education ranging from high school or GED to graduate-level degrees. The database covers the entire United States. Specific regions, genders, ages, incomes and education levels can be selected – along with key identifying factors such as registered voters, pet owners, home-owners, race, marital status, parental status, employment type and lifestyle affinities.
The partner agencies have been steadily releasing results from a Millennial Mindset Study, which uncovered this demographics' views on debt and investing, along with their saving and spending habits. The study also revealed Millennials' preferred technologies and brands, as well as the social causes they most care about, their perceptions on online privacy and what they want from employers. The partners will soon be releasing a report on Millennials' views on higher education.
"We've been working with these volunteers for more than nine months," Jones-Mitchell added. "We know how to engage with them in an honest, direct and valuable way to uncover their complete views about most any topic. We offer complete customer personas or detailed interviews on specific topics. And, we don't just deliver the data. As marketers, we translate the findings into actionable recommendations."
Brands wanting this customized research should contact Pinpoint Market Research or Anderson Jones PR.
About Pinpoint Market Research:
Atlanta-based Pinpoint Market Research is more than just a research company. We are strategists who translate intelligent insights into actionable marketing plans. We specialize in Digital and Customer Personas; Competitive Matrix Reporting; Brand Identity IQ; Customer Journey Mapping; Messaging Audits and Strategies; Surveys, Polling and Focus Groups. http://www.pinpointmarketresearch.com
About Anderson Jones PR:
Anderson Jones PR is a full-service public relations, marketing and social media engagement agency that focuses on delivering big agency thinking at boutique agency pricing. We specialize in brand development, traditional media relations and media training, social media engagement, content marketing and crisis communications. http://www.andersonjonespr.com