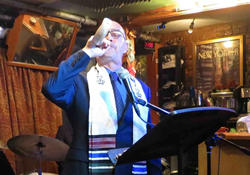 "Making Judaism spirituality accessible and embraceable are our goals."
New York, NY (PRWEB) August 25, 2015
Sim Shalom, the world's only purely virtual synagogue using an online platform for spiritual community engagement through celebration of music, will host its fourth annual High Holiday services at an iconic New York City jazz club. The service will be streamed live with worldwide participation via live chat.
Bringing together the sound of a quartet with saxophone, drums, bass and piano with classic jazz arrangements created by Rabbi and Cantor Steven Blane, the Bitter End will provide a destination for two High Holiday services on Rosh Hashana, September 14th and Yom Kippur, September 23rd at 10:30am. Rabbi Blane's cantorial vocals will be joined this year by Tal Ronen on bass, Jack Glotman on piano, Carol Sudhalter on saxophone and flute, Frank Levitano on drums and others to be announced. The services will last approximately two hours and include traditional liturgy along with the blowing of the shofar, a ram's horn that heralds reflection and atonement.
"Making Judaism spirituality accessible and embraceable are our goals," said Rabbi Blane, jazz musician and former actor. "We have hundreds of active participants in our services on a weekly basis and that number continues to grow. The convenience of an online spiritual community that addresses the needs of multiple demographics in as many destinations drives our expansion. The universality and fusion of jazz and music to speak the language of the Jewish spirit makes our approach at once soul-filling, meaningful and a bridge to reflection."
Congregants from across North America in cities and rural areas and far beyond can partake in the service simply by clicking on at Sim Shalom's website http://www.simshalom.com at 10:30am EST. Sim Shalom's High Holiday services in the past have included congregants of all ages and backgrounds including millennials to seniors, vacationers and members of the US military serving abroad. "Connecting individuals of all tenets, affiliated and unaffiliated, has been at the core of Sim Shalom's accepting and pluralistic online community. The power of music and the internet are the perfect instruments to thread the Jewish fabric," explains Rabbi Blane.
About Sim Shalom and JSLI
Sim Shalom is an interactive online Jewish Universalist synagogue that is liberal in thought and traditional in liturgy. Created in 2009 by Rabbi Steven Blane on Manhattan's Upper West Side, Sim Shalom offers a means of connecting the unconnected. Rabbi Blane leads accessible and short Kabbalat Shabbat services every Friday night using a virtual interface and additionally Sim Shalom provides online education programs, Jazz concerts, conversion and life-cycle ceremonies along with weeknight services at 7:00PM EST led by Rabbis and students of this online community.
Rabbi Blane is also the founder and director of the Jewish Spiritual Leader's Institute,
http://www.jsli.net, the online professional rabbinical program.
Sim Shalom, a non profit 501 (c ) (3) tax-exempt organization, nurtures a Jewish connection through its mission of innovative services, creative education and dynamic outreach to the global community. For more information, visit http://www.simshalom.com.
For more information, images, video or interviews, contact Heidi Raker, RG PR, 212-863-4108 or Heidi(at)rakergoldstein(dot)com.