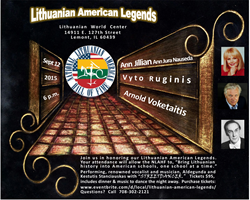 Our goal is to help, encourage, and inspire Lithuanians and their descendants worldwide.
Chicago, IL (PRWEB) August 19, 2015
Lithuanian American Legends, actress Ann Jillian (Jurate Nausedaite), actor Vyto Ruginis, and opera soloist Arnold Voketaitis, are being inducted into The National Lithuanian American Hall of Fame (NLAHF). Previous inductees include, football greats, Dick Butkus and Johhny Unitas, and actress Ruta Lee.
The induction ceremony will take place on September 12, 2015, at 6 p.m., at the Lithuanian World Center, 14911 E. 127th Street, Lemont, IL 60439. Tickets are $95 and includes live entertainment by popular vocalist and musician, Aldegunda and Kestutis Stanciauskas with "Streetdancer." Also included, dinner and music to dance the night away.
This fundraising event will strengthen our organization's ability to, "bring Lithuanian history into American schools, one school at a time," and to continue bringing Lithuania, her epic history, her culture, and most importantly, her people to the attention of the American public. The NLAHF is the fastest growing Lithuanian American organization in the United States with a strong social media presence.