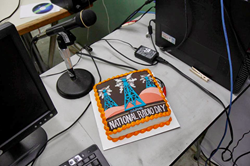 "A low-power FM radio station is like community glue," said Roach. "These new media outlets can become significant resources that inspire neighbors to organize, share, and find solutions to problems, together."
Seattle, Washington (PRWEB) August 17, 2015
Non-commercial radio stations in more than two dozen cities across America are inviting the public to participate in the first coast-to-coast celebration of National Radio Day, Aug. 20. The nationwide celebration organized by Brown Paper Tickets gives everyone the chance to become a part of special National Radio Day broadcasts and enjoy local events hosted by participating stations listed at http://www.NationalRadioDay.com.
"This is the first coordinated national event in honor of National Radio Day," said Sabrina Roach, a Doer for Brown Paper Tickets organizing National Radio Day. "I wanted to introduce an opportunity for public radio, community stations and nearly 2000 new low-power FM radio stations (LPFMs) to work together on a common project to engage their communities by celebrating radio."
As a result of the Community Radio Act, for the first time, dozens of 100-watt, nonprofit stations have been licensed in the nation's most densely populated urban areas, where their signal can reach large numbers of people. "A low-power FM radio station is like community glue," said Roach. "These new media outlets can become significant resources that inspire neighbors to organize, share, and find solutions to problems, together."
National Radio Day offers these new neighborhood stations the opportunity to connect and learn from other non-commercial media and public institutions in their region to meet common goals, and forge valuable support networks in the process.
Anyone can be on the radio on National Radio Day, as listeners and independent producers are invited to record Sonic IDs and upload them through the event website. Like an audio postcard, Sonic IDs are described by their creator, Jay Allison of Transom.org for Atlantic Public Media, as, "...short, surprisingly thoughtful moments designed for the modern attention span." Participating stations will have access to all Sonic IDs submitted and can incorporate them into broadcasts on National Radio Day.
National Radio Day coincides with National Lemonade Day, and Coast Community Radio stations along the Oregon and Southwest Washington coast are inviting the public to join them at their studios for a dose of radio and a tall glass of lemonade on Aug. 20. "What could be better on a summer day than your favorite radio programs and an ice cold glass of lemonade," said Susan Boac, Development Director at Coast Community Radio. Harvard Community Radio in Illinois will celebrate National Radio Day with special programming, such as their "100 Greatest Guitarists" event, and Philadelphia Community Access Media will host a live community broadcast featuring the station's first podcast, PhillyCAM Radio, and local youth media programs.
The National Radio Day flagship event will feature a live broadcast from a pop-up radio station on the plaza of the The Seattle Public Library, featuring local youth radio hosts and performances by national recording artists who support low-power FM as an amplifier for local voices, arts and culture. A portable, interactive 6-foot art installation created for National Radio Day, the "Seattle Neighborhood Radio Tower" will anchor the pop up radio station and serve as an iconic ambassador for seven new LPFM neighborhood radio stations that will soon be broadcasting to 90% of Seattle neighborhoods.
The Seattle Neighborhood Radio Tower will go on tour after National Radio Day, promoting Seattle's seven new community owned and operated media outlets by lighting up events and public spaces in the neighborhoods they will be broadcasting to. A Seattle Neighborhood Radio Tower tour schedule will be published on National Radio Day.
National Radio Day has been celebrated since the early 1990s on Aug. 20, honoring the day the first news radio station, 8MK radio in Detroit (now WWJ AM), was licensed by the FCC and went on the air In 1920. On Aug. 31, 1920, 8MK aired the first news radio broadcast featuring local election results, and a new era for mass communication of news, information and community voices had begun.
For more information, go to http://www.NationalRadioDay.com, or email Sabrina Roach at Sabrina(at)BrownPaperTickets(dot)com.
###
Background:
Washington Senator Maria Cantwell and Arizona Senator John McCain sponsored the Local Community Radio Act, which allows nonprofits to own and operate radio stations in the nation's largest urban areas for the first time.
Seattle-based Brown Paper Tickets, a Not-Just-For-Profit social enterprise, has been hiring change-makers called Doers to build stronger communities, with metrics for social impact, not sales, since 2010.
Roach's mission as a Doer is building capacity for non-commercial media and municipal broadband as powerful tools for equitable community development. She co-created National Radio Day in partnership with non-commercial radio stations across the United States.
In 2012/2013, Roach led a National Make Radio Challenge, inspiring nonprofits to apply for their own low-power FM radio station. In Nov. 2013, Roach created the Puget Sound Community Radio Cohort (PSCRC), the nation's first resource network for regional LPFM radio applicants in support of their journey towards becoming valuable, sustainable community resources.
For more information, go to http://community.brownpapertickets.com/Doers/radio.html.
EDITOR'S NOTE: High resolution photos and in-person, in-studio interviews with Sabrina Roach and representatives from any of the participating radio stations, a Seattle neighborhood radio coverage maps showing the 90% of city neighborhoods that will be served, and video of Roach's 2013 National Radio Day event are available. Contact Barb Morgen at 206.883.9093 or email barb(at)brownpapertickets(dot)com.