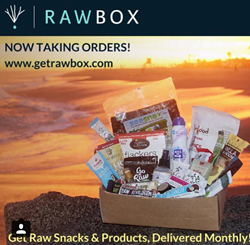 RawBox is the healthiest subscription box on the market. Even the most restricted dieters will be able to enjoy this one!
Newport Beach, CA (PRWEB) August 18, 2015
RawBox, the first and only subscription box for the raw, plant-based community, is now taking orders! RawBox opens to the public this week and will be taking orders at http://www.getrawbox.com.
As a business, RawBox is positioned for success as it capitalizes on two of the most popular trending topics today. Sitting at the crux of 'the real food revolution' and 'the heyday of subscription boxes', RawBox has been able to harness the power of these two movements by delivering healthy, raw products to the public in a convenient subscription format.
RawBox makes 'going raw' and getting healthy easy for the average person. It also offers a viable marketing venue for the abundance of 'raw' and 'plant-based' businesses that have launched in the past several years. Some of the brands featured in upcoming RawBox shipments include Go Raw (goraw.com), Sun Warrior (sunwarrior.com), Raw Revolution (rawrev.com), Emmy's Organics (emmysorganics.com), Brad's Raw Foods (bradsrawchips.com), Doctor in the Kitchen (drinthekitchen.com), Artisana (artisanaorganics.com), Sunfood Superfoods (sunfood.com), Savvy Naturals (saavynaturals.com), Nutrawbar (nutrawbar.com), Hemp Hearts (manitobaharvest.com), and Rawxies (rawxies.com).
As a service, RawBox is the cleanest, healthiest subscription box on the market and the only option for the raw, plant-based community. And who says all this healthy stuff has to be boring? The food products in RawBox are some of the best tasting, grab-and-go products you will ever eat, and the lifestyle products are so amazing you'll want to tell your friends!
Please review the attached chart to see how RawBox stacks up against the competition. The key differentiators that make RawBox a top choice for consumers include:
1. Niche Market. RawBox is the only subscription box that caters to the raw, plant-based community. Every food product is made with simple, raw, plant-based ingredients.
2. Dietary Requirements. RawBox is a 'one-stop-box'. In meeting the stringent standards of the raw, plant-based community, RawBox has also, by default, met the criteria for many other diet-restricted groups. Unlike its competition, RawBox doesn't need to create separate boxes for different dietary restrictions since ALL products in RawBox are safe for just about everyone. RawBox products may be safely enjoyed by raw foodists, vegans, vegetarians, celiacs, paleo-ists, athletes, dieters, health enthusiasts, and anyone who wants to discover the benefits of clean, healthy living.
3. Value. Each RawBox is filled to the brim with raw, plant-based snacks and non-perishable food, as well as the cleanest household, beauty, and lifestyle products available. Each month, customers discover 10-12 new products and up-and-coming brands that they otherwise may not have had the opportunity to explore. Products in each RawBox have a total value of $40-$80, and the box sells for $39.95/month with discounts available for 3-month, 6-month, and 12-month prepay subscriptions.
4. Product Size. Most products are full-size, individual serving packages - rather than sample size. With full-size products, customers are able enjoy each item long enough to make a decision. Utilizing full-size products is also beneficial to the plethora of young raw companies who don't have funds to create expensive sample size packaging, and who would therefore prefer to send full-size options to potential customers.
5. Health Guidelines. ALL food products in RawBox are raw, plant-based, nutrient-dense, gluten-free, wheat-free, soy-free, dairy-free, GMO-free, MSG-free, and sulfite-free. ALL RawBox food products are also free from animal products, processed sugar, high-fructose corn syrup, transfats, irradiation, heat processing, artificial colors, artificial sweeteners, and preservatives. All lifestyle products in RawBox are free from parabens, polypropylene and polyethylene glycols, sodium lauryl and laureth sulfates.
Please visit the website to learn more and to order your first RawBox.
About RawBox.
RawBox is a monthly subscription box of raw, plant-based snacks and clean lifestyle products. Each box is delivered with 10-12 different products that have a total value of $40-$80. We generally include full-size, single-serving packages, and may also feature special offers and discounts on recommended items. RawBox provides education, advice, recipes, and new product discoveries on our blog and social media sites, and we are available as a referral service for anyone interested in raw, healthy living. Please find us on Instagram, Facebook, Twitter, and Pinterest as @getrawbox, and on YouTube and LinkedIn as RawBox.