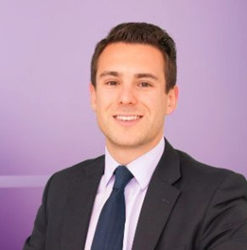 Head of PMO Simon Adams: Eren has strong analytical skills & creative problem solving excellence. His management consultancy skills & specialist knowledge within the professional membership sectors will prove vital assets to both Purple & our clients.
Chelmsford, Essex (PRWEB UK) 19 August 2015
Business and Technology consultancy Purple, welcome Eren Dunning as new Business Analyst into its expanding PMO team.
Eren has a strong background in Project Management and Management Consultancy. He possesses strong analytical skills with business case experience and the ability to turn data into insightful management information. He has the ability to quickly absorb conceptual information and provide creative problem solving excellence.
Eren has previous experience working in the built environment where he delivered a wide range of property/construction projects. Here he developed a strong set of consultancy skills and worked towards membership of his professional body.
Areas of specialism:
Business cases development, Procurement, Project Management (PRINCE 2), Presentation Analytics, Property/Construction Technology, Event management platforms, Professional bodies, Unified document repositories, Stakeholder/Product Owner Management.
About Purple Consultancy
Purple give business leaders a holistic view of their people, processes & technology so they can align their operation for success.
Purple was established in 2012 in response to an increased need from small and mid-sized business owners who wanted an impartial and holistic view of their IT needs by commercially astute technologists.
Purple's founders came from large IT and business services consultancies. Typically these organisations would be tied to a select number of IT Partnerships that were not always able to provide the best solutions for the clients they were advising. Additionally, the large IT and business services consultancies were only able to service the needs of larger organisations.