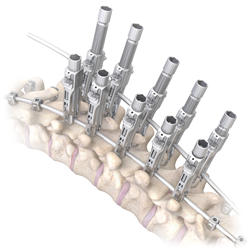 "This system has been developed exclusively with the pediatric patient in mind. It serves as an example of our company's commitment to leading innovation in pediatric orthopedics and improving the lives of children throughout the world." - Mark Throdahl
Warsaw, Indiana (PRWEB) August 17, 2015
Following the commercial launch of the RESPONSE™ Spine System on June 1st, 2015, OrthoPediatrics announced today that RESPONSE™ was successfully utilized in over 130 surgeries during its first two months of release. In children with scoliosis, each case has unique characteristics. The RESPONSE™ system has been specially designed to assist the surgeon in better correcting these unique deformities in each of their patients. So far, it's been used by 35 different surgeons in 32 children's hospitals across the country.
"We are very pleased to announce the success of the RESPONSE™ 5.5/6.0 Spine system even at this early stage of market introduction," said Mark Throdahl, CEO of OrthoPediatrics. "This system has been developed exclusively with the pediatric patient in mind. It serves as an example of our company's commitment to leading innovation in pediatric orthopedics and improving the lives of children throughout the world."
Aligned with the entire OrthoPediatrics product portfolio, the RESPONSE™ Spine System is fully focused on the pediatric patient. The design specifically addresses the distinct needs of children with spinal deformities by featuring low-profile implants that accept 5.5mm or 6.0mm diameter rods and intuitive instrumentation to promote ease of use in pediatric anatomy. The system features the Jiminy™ Rod Reducer instrument, which is designed to snap on and off easily and enables each surgeon to perform reduction and de-rotation techniques for the most complex spinal deformities.
"The RESPONSE™ Spine System was developed with the pediatric patient in mind by having one of the lowest profile screws, simple Jiminy™ rod reduction and de-rotation instrumentation, which has allowed me to be more efficient and gain better correction," said George H. Thompson, MD., Professor of Orthopaedic Surgery & Pediatrics at Case Western Reserve University and Director of Pediatric Orthopaedics at Rainbow Babies & Children's Hospital. "Plus, the overall modularity of the system helps with OR efficiency. The technology OrthoPediatrics is developing shows they are listening to what I and my patients need."
The RESPONSE Spine System was designed with pediatric orthopedic surgeons for pediatric spinal deformity patients. OrthoPediatrics announced they received 510(k) clearance for the RESPONSE™ 5.5/6.0 Spine System from the U.S. Food and Drug Administration on June 1st, 2015.
For more information on the RESPONSE™ Spine System and OrthoPediatrics' complete product offering, visit http://www.orthopediatrics.com.
About OrthoPediatrics Corp.
OrthoPediatrics is the only orthopedic company focused exclusively on orthopedic devices for children. Founded in 2006, the Company has become the only end-to-end provider to the pediatric orthopedic surgeon, introducing 18 surgical systems—the broadest pediatric offering in the orthopedic industry. This offering spans trauma and deformity correction, scoliosis, and ACL reconstruction. OP has also developed the only global pediatric orthopedic sales and distribution system, with distributors in 35 countries outside the USA.
###