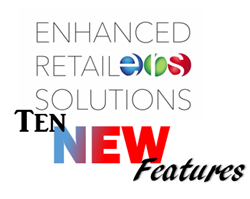 We know these enhancements will vastly speed up their workflow and greatly enhance their experience with our software. -Jim Lewis, Founder and CEO of Enhanced Retail Solutions
New York, NY (PRWEB) August 18, 2015
Enhanced Retail Solutions (ERS), a leading provider of Software-as-a-Service (SaaS) retail analytic, demand planning and strategic sourcing solutions to suppliers, their retail trading partners and licensors announced ten new features to their Intelligent Retail Software Platform:
1.) Automated transfer of Wal-Mart and Sam's Club POS data.
2.) Drag and drop import of POS data from all other retailers.
3.) Import date populates next to available date for import and shows WKYR that corresponds to the calendar date next for manual import of data, once a user selects a manufacturer and retailer.
4.) Bulk upload of images.
5.) Ability to create sales curve with 53rd week for leap years.
6.) Preference to default filter criteria throughout the application, eg: contains, begins with, etc….
7.) Ability to create forecast groups via Microsoft Excel template.
8.) Administrators can upload and manage mass store location information via Microsoft Excel template.
9.) Users can assign number of weeks of a like item's history to use for a new item that does not have sufficient history (for forecasting purposes).
10.) Bulk deletion capability for Item Tags, Store Tagging, Manage Business Rule, Report Preference, Manage Database Field, and Store Management.
"Our customers told us that small tasks add up, task by task, week by week," says Jim Lewis, CEO of Enhanced Retail Solutions, "We know these enhancements will vastly speed up their workflow and greatly enhance their experience with our software."
About Enhanced Retail Solutions LLC:
Enhanced Retail Solutions is a New York based software and consulting firm specializing in Retail Analysis and Demand Planning for the manufacturer, their retail partners and licensors. ERS' state of the art software tools and consulting deliver critical data quickly, easily and cost effectively, adding over one hundred million dollars to their clients' bottom line. ERS' broad customer base includes industry leaders in the electronics, consumer products, apparel, footwear, home textile, toy, home décor, home improvement, housewares, jewelry and food industries. For more information, visit http://www.EnhancedRetailSolutions.com.