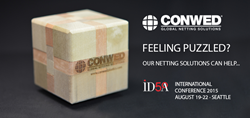 Minneapolis, Minnesota (PRWEB) August 17, 2015
Conwed, the leading plastic netting manufacturer in the world, will be promoting its netting capabilities among industrial design professionals and engineers at the 2015 IDSA International Conference in Seattle, WA (August 19-22, 2015). With the campaign theme "Feeling Puzzled?" Conwed attempts to create awareness about plastic netting and become part of the materials evaluated by the industrial design community when exploring and conceptualizing new products for industrial and consumer applications.
Conwed is actively involved in the Industrial Designers Society of America (IDSA) and has extensive experience helping industrial design professionals overcome product development challenges. Conwed netting is commonly used to reinforce, support, contain, stretch, bond, and improve different kinds of materials. It can be used in composite form with nonwoven, foam, paper, film, tissue and other fabrics. From apparel, automotive, building and construction and filtration products to hygiene, medical, and disposable consumer applications, Conwed netting provides essential performance features.
"Our plastic netting usually hides behind the scenes of products we use every day. Our goal is to become visible to all the creative minds involved in the early stages of product development so they can consider the performance and functionality our netting can bring when recommending new product designs to their clients," said Ivan Soltero, Strategic Marketing Manager at Conwed.
In addition to offering free netting samples for material libraries, Conwed also visits industrial design & engineering firms with its Lunch & Learn program to cover how plastic netting is made, how it can be incorporated with other materials, and the wide range of potential applications in which Conwed netting could be used. "We leave the product idea-generation to the creative minds and we support them by developing the netting materials they need to make their vision a reality," said Soltero.
For further information about Conwed netting and ordering free samples, visit http://www.conwedplastics.com/design
About CONWED
Conwed is the leading plastic netting manufacturer in the world. Conwed manufactures extruded, oriented and knitted netting with unique customization capabilities. Headquartered in Minneapolis, Minnesota, Conwed has five manufacturing locations on two continents and a global distribution network.