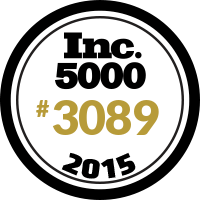 This accomplishment is a testament to the work ethic and passion that has driven our company for years.
Asheville, NC (PRWEB) August 17, 2015
Aeroflow Healthcare is excited and proud to announce that they have been recognized by Inc. magazine as one of the fastest-growing companies in America.
Inc. 5000 is an exclusive ranking of the nation's fastest-growing private companies. The list represents the most comprehensive look at the most important segment of the economy—America's independent entrepreneurs. Companies such as Yelp, Pandora, Timberland, Dell, Domino's Pizza, LinkedIn, Zillow, and many other well-known names gained early exposure as members of the Inc. 5000.
Aeroflow Healthcare was founded in 2001 by brothers Casey and Don Hite as an oxygen supply company. In the years since, they have expanded their product selection, workforce, and sales territory to become a national provider of durable medical equipment for thousands of patients every month.
This year is the first time that Aeroflow has been ranked on the Inc. 5000 list, coming in at #3089. Compared to other companies in the healthcare industry, Aeroflow is ranked #262 nationally and #1 in Western North Carolina.
"This accomplishment is a testament to the work ethic and passion that has driven our company for years. If it weren't for every one of our employees, we would not be getting this prestigious national recognition," said Casey Hite, CEO of Aeroflow Healthcare.
Aeroflow Healthcare was able to make Inc. magazine's list due to their aggressive sales and marketing strategy, and a continually increasing diversified product selection, which has allowed them to see significant growth in a field where many companies have struggled in recent years.
The 2015 Inc. 5000 is the most competitive crop in the list's history. The average company on the list achieved a mind-boggling three-year growth of 490%. The Inc. 5000's aggregate revenue is $205 billion, generating 647,000 jobs over the past three years.
Aeroflow Healthcare is on track to have a record year in sales, and will continue to add more jobs, projecting to generate over 80 new jobs in 2015 alone. Hite added, "We are extremely proud to receive this recognition, but we are even more excited about the future of the company and our employees. I can't wait to see what we can accomplish together in the years to come."
Aeroflow Healthcare is recognized as the premier provider of durable medical equipment (DME) and service in the Southeast, and continues to grow nationwide. Aeroflow is an accredited Medicare and Medicaid provider and accepts most commercial insurances. Their staff prides itself on having years of valuable experience in healthcare. For more information, visit http://www.aeroflowinc.com, or call (888)-345-1780.