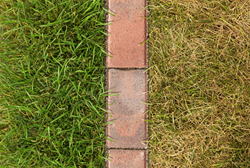 Lawns and other turf-intensive areas can remain green and healthy while their owners comply with tough water restrictions.
Long Beach, CA (PRWEB) August 18, 2015
elementC6, a technology company that focuses on the advancement of biochar, is introducing Turf Rescue, the first biochar-based soil amendment created especially to keep lawns green while using at least 35 percent less water. Turf Rescue is a proprietary blend of Cool Planet's CoolTerra™" biochar and Agromin's Compost 100 organic soil amendment.
"Biochar is a highly porous charcoal-like material that improves moisture and nutrient retention in soil while providing a habitat for beneficial soil microorganisms," says George Cain, president of elementC6. "Ancient farmers knew the value of biochar. It has recently taken on added importance as the California drought continues to severely impact city, commercial and residential landscaping."
Turf Rescue's biochar component acts like a sponge to retain water and nutrients at the grass root zone, increasing water use efficiency and reducing the need for fertilizer. Agromin's OMRI-listed Compost 100 inoculates the biochar thereby incorporating beneficial microbes directly into the biochar and enhancing the process. "With California expanding its restrictions on water use, Turf Rescue is the perfect solution for cities, sports parks, golf courses, HOAs, commercial properties and homeowners who want to maintain green lawns while preserving California most precious resource, our water," says Rick Wilson, vice-president of Cool Planet.
Agromin and Cool Planet have spent the last year testing the product on lawns throughout southern California.
"Our studies show that when Turf Rescue is applied to grass, water usage is cut significantly," says Bill Camarillo, CEO of Oxnard-based Agromin. "This means lawns and other turf-intensive areas can remain green and healthy while their owners comply with tough water restrictions."
elementC6 recommends that Turf Rescue be installed by a professional landscaper. After a lawn is mowed and aerated, Turf Rescue is applied at a rate of 1 cubic ft. per 100 square feet of turf. Water is applied normally for 7 to 10 days after which the watering schedule is ready to be reduced.
"Watering an average 20' by 20' lawn for 10 minutes with sprinklers gobbles up over 124 gallons of water," says Camarillo. "Imagine the amount of water that could be saved over the course of a year if you could eliminate watering your grass by one or two days a week."
The environmental value of grass is significant. "Turf plays and important role in our ecosystem," says Wilson. "Grass absorbs greenhouse gasses, converting carbon dioxide into oxygen. A 2,500 square foot lawn, for example, produces enough oxygen for a family of five. It also lowers surface temperatures. We're excited that we will be able to give lawn owners an alternative to synthetic grass and hardscapes."
Turf Rescue is available throughout Southern California in bags or bulk. For more information call 844-SAV-TURF (844-728-8873), email info(at)turfrescue(dot)com, or visit http://www.TurfRescue.com.
About Agromin
Agromin manufactures earth-friendly soil products for farmers, landscapers and gardeners. Agromin is also the composter for over 50 California cities. Each month, Agromin receives more than 30,000 tons of organic material and then uses a safe, natural and sustainable process to transform the material into premium soil products. The results are more vigorous and healthier plants and gardens, and on the conservation side, the opportunity to close the recycling circle, allow more room in landfills and reduce greenhouse gas emissions. Connect with Agromin on Facebook at Facebook.com/Agromin, on Twitter at Twitter.com/Agromin and at http://www.agromin.com
About Cool Planet
Cool Planet is commercializing a technology to create green fuels and biochar in a way that can change the world for good. Its green fuels are chemically identical to fossil fuels, and its "CoolTerra™" biochar product enables fertilizer reduction and increased water retention for increased crop productivity and more robust plant health. The process is capable of being carbon negative, reversing the consequences of CO2 build-up from fossil fuels. Cool Planet's technology has a broad portfolio of pending and granted patents. Global investors include BP, Google Ventures, Energy Technology Ventures (GE, ConocoPhillips, NRG Energy), and the Constellation division of Exelon. Connect with Cool Planet on Facebook at Facebook.com/CoolPlanetEnergySystems, on Twitter at Twitter.com/CoolPlanetFuels and at http://www.coolplanet.com.
About elementC6
elementC6 Inc. is a technology company based in Long Beach, California and Cheyenne, Wyoming. It focuses on the advancement of biochar into the marketplace for both commercial and consumer use. Its products are environmentally favorable and 100 percent natural. elementC6, Inc. is committed to bringing sustainable, results-driven agricultural innovations to the commercial and consumer markets. Combining ancient methods with cutting-edge science, it creates products that promote healthier, more disease-resistance, faster growing plants with higher yields while using less water and nutrients. Connect with elementC6 at Facebook.com//Ec6inc and http://www.elementc6.com.