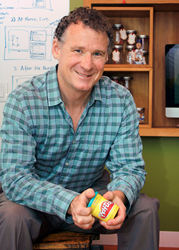 It's wonderful to hear that people think I'm inspiring, although as I move around my office and attend client meetings, I don't hear as many 'oohs' and 'aahhs' as you might expect.
New York, NY (PRWEB) August 17, 2015
Healthcare marketing agency, Heartbeat Ideas, today announced that Founder & CEO, Bill Drummy, has been named to the prestigious "PharmaVOICE 100 Most Inspiring People in the Life-Sciences Industry" list by premier healthcare communications trade publication, PharmaVOICE magazine. This marks the second time that Mr. Drummy has received this honor, first being named to the list in 2008.
The PharmaVOICE 100, originally established in 2004, is an annual list of the most influential and inspirational leaders from across all sectors of the Life-Sciences Industry. The distinguished honorees are nominated by PharmaVOICE readers and are selected based on comprehensive testimonial essays featuring the nominees' motivational and positive change within the healthcare marketing industry. These selected leaders have proven to extraordinarily impact their colleagues, their companies, and the greater healthcare community as a whole.
"His influence on life-sciences marketing has not slowed," remarked PharmaVOICE editors on Mr. Drummy's long tenure of dramatically shaping the industry. "Throughout his 25-year career, Bill Drummy has never lost sight of the latest technologies and leading-edge solutions to solve marketing challenges."
Mr. Drummy's recognition, specifically, was noted as being based on a myriad of factors, including his passion and conviction for the industry, his ability to view industry trends as opportunities and not obstacles, the ability to innovate in developing breakthrough strategies and services, for pioneering new paths and lifting his company to new heights, for taking the time to mentor and guide the next generation of industry leaders, and for his dedication to improving the lives of patients.
"It's wonderful to hear that people think I'm inspiring, although as I move around my office and attend client meetings, I don't hear as many 'oohs' and 'aahhs' as you might expect," said Mr. Drummy regarding his 2015 selection. "Now that it's happened twice though, I'm thinking I should make regular expressions of awe a requirement."
About Heartbeat Ideas
Founded in 1998, Heartbeat is the Consumer & HCP AOR leader that specializes in helping brands overcome the odds and exceed their goals by outsmarting, outworking, and outperforming the competition. The digitally native, full-service agency dissects a brand's unique competitive challenges and delivers a smarter approach by leveraging unexpected strategies, daring creative, innovative solutions, faster processes, and a scrappy mentality. Heartbeat is proud to have partnered with world-class organizations like Genentech, Galderma, Novartis, Pfizer, and UNICEF.
California-based sister agency, Heartbeat West, brings that same fighting spirit and world-class strategic and creative skills to healthcare clients on the West Coast. Managed by sun-seeking refugees from Heartbeat Ideas' New York base, Heartbeat West offers clients the energy and uncompromising attitude of a "New York agency," only with palm trees and better Mexican food.
Heartbeat Ideas and Heartbeat West are members of the Publicis Healthcare Communications Group.
For more information about Heartbeat Ideas and Heartbeat West, contact Jared Watson at jared.watson(at)heartbeatideas(dot)com or 646.701.6240.