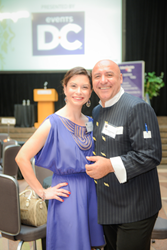 Washington, D.C. (PRWEB) September 01, 2015
Two of Washington D.C.'s most respected chefs are using their global expertise and connections to better cross cultural relations through food and dining.
Recently named "the next big thing" in the culinary world by Elle Spain, award-winning culinary duo Amy Riolo and Luigi Diotaiuti are known for telling the whole story behind food and reclaiming culinary traditions on the brink of extinction. According to Amy and Luigi, "Business deals, successful interpersonal relations, development projects, diplomatic efforts, and the modern workplace function more efficiently when communications between all parties are effective." Their mission is to portray the power of food to promote pluralism effortlessly.
As respected culinary diplomats, Amy and Luigi have created and participated in recent events for The U.S. Department of State's Diplomatic Culinary Partnership and Les Dames d'Escoffier's Global Culinary Initiative, in addition to planning menus and receptions for world leaders. They have also cooked and participated in culinary panels internationally and served as judges for Cultural Tourism DC's Embassy Chef Challenge. In July, Luigi traveled to Milan where he participated in the Great American Chefs Rally at Expo 2015 as part of the U.S. Department of State's American Chef Corps in addition to representing his region of Basilicata, Italy's culinary patrimony. Also in July, Amy went to Los Angeles to present Gastronomic Diplomacy: Exploring Italy's Influence on Cuisine and Culture. In September, she will travel to Salt Lake City to deliver Culinary Diplomacy: Building Bridges through Global Cuisine for the Utah Council for Citizen Diplomacy. During this event, Amy will share simple steps to better cross cultural communication through food and dining, and attendees will witness practical examples of how a simple meal can transform public policy and create lasting diplomatic ties. For more information or to register, click here.
"As an organization that celebrates Citizen Diplomacy and the importance of people-to-people connections around the globe, Amy Riolo's Culinary Diplomacy presentation on Italian Influences on American Cuisine and Culture was a fantastic hit with our audience," said Janet Elliot, International Visitors Council of Los Angeles. "She had all the scholarly knowledge one could ever hope for, but her presentation was lively, engaging and fascinating for all."
Culinary diplomacy—the idea of using cuisine to create cross-cultural understanding—is an age-old practice that became an official program in 2012, when then Secretary of State Hillary Clinton announced the Diplomatic Culinary Partnership. Since then, Secretary of State John Kerry has touted the program as a means to build bridges through cuisine, and the idea of culinary diplomacy has become vogue – there are magazine articles and college courses about it.
In addition to his culinary work, Chef Luigi is best known as owner of the popular Washington, D.C. restaurant Al Tiramisú, a hotspot with celebrities and politicians alike. Secretary John Kerry praised Luigi and his restaurant at a diplomacy event last year, saying "I want to thank Chef Luigi Diotaiuti...from the Al Tiramisu restaurant, which I love to go to; I go to it when I get a chance to here in Washington."
Raised on his family's farm in Basilicata, Italy, Luigi's relationship to nature created the foundation to his culinary career. As a young chef, Luigi lived and worked in some of the most posh locations in the world. He learned a great deal in Tuscany, Sardinia, Venice, Paris, and the United Kingdom and beyond. Luigi's knowledge and talent earned him the coveted Insegna del ristorante Italiano, a prize given by the Italian government to the world's most authentic Italian restaurants outside of Italy. After 17 years of owning and operating Washington's "most authentic" Italian restaurant, he was inducted into the American Chefs Corps by Hillary Rodham Clinton. In this role, Diotaiuti works with the State Department to prepare meals for visiting dignitaries and travels to the U.S. embassy in Italy to provide educational programs. Luigi has dual citizenship in Italy and his beloved U.S., and the rare Italian chef who is equally known and celebrated in both his home country, where he frequently returns for events and TV appearances, and here in the U.S.
Amy, a chef, food historian and culinary anthropologist, has been passionate about exploring cultures through their cuisines since she was a child. She has visited, worked, and lived in various European, Mediterranean, and Middle Eastern countries, and created a niche in her business for portraying cultures through their cuisine in her books, lectures, and culinary tours. As an award - winning author, popular lecturer, linguist, and Culture of Cuisine cooking show host, Amy firmly believes that "communication is the common foundation for all relationships – and food is the foundation upon which our families, communities, and lives are built." Amy has created menus, culinary ceremonies, and educational seminars for diplomats, international chefs, and world leaders, earning her the title "The Cook to the Kings" by a Cairo newspaper. She chairs the Global Culinary Initiative for Les Dames d'Escoffier.
To learn more about how simple meals can transform public policy and create lasting diplomatic ties – or for tips to "build bridges" at your own dinner table, visit http://www.AmyRiolo.com and http://www.AlTiramisu.com. To book Amy and Luigi to discuss culinary diplomacy for an event, please contact jill(at)jilldykespr(dot)com.