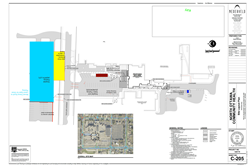 The ER is an essential resource for our community. The quality of care is outstanding. Now the building itself will be a showcase for healthcare excellence.
(PRWEB) August 18, 2015
Lakeshore-based North Ottawa Community Health System (NOCHS) broke ground earlier today on its transformational Emergency Room project being funded, in part, through its Pulse capital campaign. The 15,500-square-foot, two-story project combines renovation with new construction in a totally new model of emergency care. Groundbreaking remarks were led by Dr. Jack Roossien, NOCH Board Chair, Shelleye Yaklin, NOCHS President and CEO, Lorissa MacAllister, Eviah Architecture, and Jeff Beswick, Pulse Campaign Co-Chair.
Attendees received updates on the project's architectural plan, as well as construction phasing. Project highlights include unique collaboration space to blend medical expertise with mental health and social justice agencies to manage patients with chronic conditions and mental illness, additional patient rooms, state-of-the-art trauma rooms, mental health "safe rooms" and the CDC–standard decontamination room. Special design elements include a spectacular new entrance, significantly increased natural light, rooftop garden, and outdoor healing garden.
"The ER is an essential resource for our community. The quality of care is outstanding. Now the building itself will be a showcase for healthcare excellence," said Shelleye Yaklin, NOCHS President and CEO. "Equally important, the processes behind the ER will help transform our healthcare system from "treating illness" to "encouraging wellness."
From a physical standpoint, the community will see sweeping improvements in the NOCHS emergency room.

A much clearer entrance. This will eradicate the issue of people becoming panicked or confused when looking for assistance.
More care rooms. The department will be expanding from 13 to 19 rooms. This will relieve overcrowding, increase privacy, and decrease wait times.
State-of-the-art trauma rooms. NOCHS professionals will have the very best resources for evaluating, treating or stabilizing patients when someone's life is on the line.
Mental health "safe rooms." As many as 4,800 of the ER's 18,000 visits per year have been identified as preventable given proper access to primary care, mental health, or basic needs resources. These individuals need different care than someone with a heart attack or a broken leg.
CDC standard decontamination room. It is a scary thought to think that bio-terrorism could touch the Lakeshore, hopefully it never will. However, accidents do happen and NOCHS will now have the resources to address chemicals spill and disease breaks out.
The second aspect of the project is less about bricks and mortar and more about philosophy.
ER misuse. NOCHS is meant to be a place for immediate crisis care, however people come – repeatedly – because they have nowhere else to go. This results in NOCHS becoming the most expensive and least effective place to treat their issues.
Living well. NOCHS is making it a priority to connect individuals to appropriate resources and coordinate their care when they leave. The focus will be to provide the support systems and processes to help patients implement them.
"Although the bricks and mortar are what you will see, I can't emphasize enough that the fundamental, sweeping change of this project comes from a new mindset about how to keep our community healthy," said Yaklin.
In addition to the actual project construction, NOCH has outlined goals to ensure people who come to the emergency room receive the fastest and best solution to a serious health issue.
5. Patients will be in a room within 5 minutes of their arrival.
60. Within 60 minutes, NOCHS will have a plan of action for how a patient will be treated.
90. After 90 minutes, a patient should be moving to the next phase of care, whatever that might be.
99. NOCHS wants 99% of their patients to be completely thrilled with their ER experience.
The project being funded by the "Pulse" capital campaign has raised $2 million to date and is asking the community to invest the remaining $500,000. The Pulse capital campaign is being led by Honorary Chairpersons Gary Verplank and Midge Verplank, as well as co-chairs Tim Parker, Jeff Beswick and Jim Walters, MD.
"You just can't overestimate the importance of having local health care governed by local people," said Jeff Beswick, local attorney and campaign co-chair. "Now it's time for the community at large to rally around local health care. Get involved! Do your part. You'll never be sorry that we have a state-of-the art ER, and a health system that's thinking light years ahead of the competition."
Please visit noch.org and click "Pulse Campaign" for details on the capital campaign and how you can support this community project.
About North Ottawa Community Health System:
North Ottawa Community Hospital is part of a full continuum of care including an 84-bed long-term care facility, home health care and durable medical equipment services, retail pharmacy, urgent care center, as well as physician practices in primary care and OB/GYN. It also includes North Ottawa County's first in-patient hospice facility and longest running community-based hospice program on the lakeshore. NOCHS is among the lakeshore's major employers with more than 800 employees.