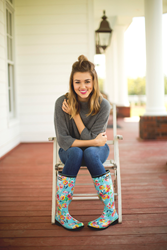 Las Vegas, Nevada (PRWEB) August 17, 2015
Star of A&E's "Duck Dynasty" and ABC's "Dancing with the Stars" Sadie Robertson will showcase her collection of boots with Roma Boots to more than 60,000 attendees of the global fashion tradeshow MAGIC on August 17-19 at the Las Convention Center.
The new Sadie Robertson Live Original™ collection with Roma Boots will be front and center in the international footwear marketplace FN PLATFORM at MAGIC, where leaders and innovators converge to shape the industry, shop and sell shoes. Built by the industry for the industry, FN PLATFORM is the merchandising showcase of branded footwear.
Twice annually, over 60,000 industry insiders from more than 120 countries meet at MAGIC in Las Vegas to shop for the latest fashion trends from 11 can't-miss merchandizing environments. Each section is tailored to a unique look or trend around apparel, footwear, accessories and resource. Sadie is teaming up with Roma Boots to showcase a collection at this event for the first time.
Sadie and Roma Boots both seek to spread the philosophy of love and to enrich the lives of others through the convergence of art and fashion. Their exciting new design collaboration will further their missions to "Live Original" and "Give Poverty the Boot!" at the same time. Set to debut in October just in time for fall shopping and holiday wish lists, the Sadie Robertson Live Original™ Collection will range from $99 to $119.
Fashionistas and fans can pre-order the new Sadie Robertson Live Original™ Collection, as well as order from Roma's current collection of rain boots at http://www.romaboots.com.
Roma Boots is a "buy one, give one" company that donates a pair of boots filled with educational supplies to a child in need for each pair sold. Additionally, 10 percent of sales goes towards an education initiative. Both functional and fashionable—they are waterproof, comfortable, slip-resistant and eco-friendly—the Sadie Robertson Live Original™ Collection flaunts stylish floral designs. Fans can show love, "Live Original" and "Give Poverty the Boot" with a new pair of Sadie Robertson's Live Original boots from Roma.
For more details on Roma Boots, please visit http://www.romaboots.com.
For more details on MAGIC and FN PLATFORM, please visit http://www.magiconline.com/fn-platform.
About Roma Boots
Samuel Bistrian founded Roma Boots in 2010 with the hopes of merging his knowledge of fashion with his passion for humanitarianism. Roma is amor, and amor means love. Roma Boots can also be found online at http://www.romaboots.com and in more than 300 boutiques and regional stores around the U.S. Roma Boots are also sold internationally in the U.K., Japan, South Korea and Germany.
About FN PLATFORM
FN PLATFORM is the global showcase for branded footwear, showcasing over 1600 men's, women's, juniors' and children's footwear brands from more than 20 countries. From luxury to lifestyle, footwear is curated at FN PLATFORM with buyers in mind. Offering six merchandised lifestyle environments, FN PLATFORM provides buyers with a convenient and efficient way to shop the most comprehensive selection of international footwear.