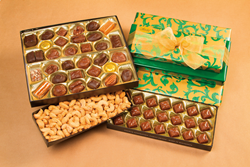 Our premium chocolates and confections are memorable and impressive gifts for clients, colleagues, employees and friends
Burnsville, Minn. (PRWEB) August 25, 2015
Fourth-generation family-owned Abdallah Candies is pleased to announce its 2015 holiday gift selections for corporate and personal gift giving. The selections include a variety of baskets, tiered assortments, holiday tins and boxed collections filled with popular Abdallah items: Alligators® – pecans and caramel covered in milk chocolate – Downtowner® assorted milk and dark chocolates, old-fashioned butter caramels, sea salt and vanilla caramels, peppermint bark, fresh cashews and mixed nuts, and a variety of impeccable flavors in whipping cream truffles.
"Both gift givers and recipients are thrilled with Abdallah's gift selections," said Steve Hegedus, president of Abdallah Candies and the fourth-generation family owner. "Our customers love the quality, selection, presentation and the convenience of shipping beautifully gift wrapped, personalized gifts directly to their entire recipient list. Of course the recipients love that we use only the finest ingredients in our family's recipes. Our premium chocolates and confections are memorable and impressive gifts for clients, colleagues, employees and friends."
Featured Assortments
Among the many featured assortments for 2015 are:

Small Gift Basket: This holiday-themed basket is filled with mini mints, Alligators, banquet chocolates, butter almond toffee, a chocolate mocha whipping cream truffle, white pretzels and caramel bites. Each is individually wrapped within the basket for easy dividing.
Large Gift Basket: This beautiful holiday gift basket is filled with over 5 pounds of Abdallah favorites, including Cashew Grizzlies®, peanut brittle, sea salt almond Alligators, sea salt caramels, chocolate truffles, peppermint bark, dark chocolate peanut brittle, white pretzels, wrapped butter caramels, mini mints, butter almond toffee, peanut butter bites, caramel bites and assorted candy bars.
2 and 3 Tier Assortments: Both elegantly gift wrapped, these assortments include a Downtowner assortment and jumbo cashews. The 3 tier assortment also includes chocolate mints.
Ultimate Gift Pack: This stylishly wrapped combination features more than 5 pounds of candies including: Alligators, butter almond toffee, sea salt caramels, birch bark, foiled milk chocolate balls, mixed nuts, Mint Melties and whipping cream truffles.
Holiday Trio: This single holiday-themed box contains sea salt caramels, peppermint bark and mixed nuts.
Holiday Mailer Pack: This easy-to-ship assortment includes 2 pounds of pure bliss, featuring Alligators, chocolate mints, sea salt caramels, butter almond toffee, peanut butter bar, milk chocolate caramel bar, dark chocolate bar, milk chocolate bar, bagged old-fashioned caramels and foiled chocolate holiday balls.
Smaller items include the 12-ounce Sampler Assortment, which has Alligators, butter almond toffee, chocolate mints and sea salt caramels, and highlights some of the company's most popular items. One pound tins of extra-large jumbo cashews, mixed nuts, assorted butter almond toffee or old fashioned butter caramels are great for sharing. Of course, there's always decadent boxed chocolates and luscious whipping cream truffles, which have a rich ganache center made with fresh whipping cream, butter and rich dark chocolate. Truffle flavors include French silk, double chocolate, alpine, raspberry, mocha and crème de mint.
For companies that prefer to send gifts prior to the December rush, the company also offers a 1-pound box of mixed chocolates, and a 2 tier assortment of assorted chocolates and dark chocolate sea salt caramels, both of which come gift wrapped in high quality paper with an autumn theme.
For the full selection of holiday assortments and prices, please visit http://www.abdallahcandies.com. Please note orders take 2 to 5 days to process, and selection and delivery may be limited on orders placed after Dec. 1.
Gift Wrapped and Personalized
Abdallah can add the finishing touches to its gifts, including fine wrapping paper, and a personalized gift tag with a company logo and a custom message. Some of the assortments include gift wrapping whereas others can be gift wrapped upon request. Gift wrapping is not available for tins and bagged items as their holiday spirit is inherent.
Turnkey Shipping Services
Complete gift orders can be picked up from the company's location in Burnsville, Minn., or shipped directly to the ordering company. For customers wanting to simplify the gift-giving process to 24 or more people, Abdallah can ship gifts directly to a company's recipients. Customers can submit an Excel spreadsheet of recipients' names and addresses in a prescribed format, or Abdallah employees can manually enter list data for customers. Lists are held in the strictest confidence.
Quantity Discounts
Abdallah offers discounts up to 20 percent or more off retail pricing to businesses buying in quantity. Customers spending just $370 receive a 20 percent discount. A 25 percent discount is offered on orders of $1,475 to $3,699, and 30 percent on orders of $3,700 or more.
About Abdallah Candies
Founded in 1909 by Albert Abdallah, a young immigrant from Lebanon, Abdallah Candies handcrafts premium chocolates and confections from the same recipes the founder perfected over 100 years ago. Abdallah sells its products wholesale through gift and candy stores nationwide, and at its own retail and online stores. The fourth-generation, family-owned company also private labels its products for select retailers and grocers. For more information, visit: http://www.abdallahcandies.com.
###