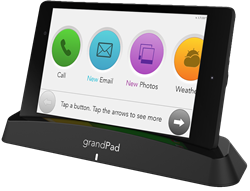 By combining the usability of grandPad with elder care support services, we are able to provide each of our clients a wonderful ability to stay better connected with family and friends...
Orange, CA (PRWEB) August 17, 2015
grandPad Inc., the emerging tablet of choice for seniors, announced its partnership today with Sesen Elder Care to bring simple and secure technology to older adults and their families, as well as the providers of in-home care. The partnership extends grandPad's user base in the San Francisco Bay Area where Sesen operates.
According to a study by AARP, 89 percent of older Americans want to age in place - living in their homes as independently and as long as possible. grandPad makes this easier by providing a tablet personalized to the user which includes activities such as music or video chat along with important health and aging support resources. Perhaps the most important function of grandPad is the connectivity, via video chat that enhances communication between seniors and their families and friends bringing peace of mind to caregivers who cannot always be with their loved one but can still check in and monitor their safety.
"Our older population, especially those over age 75, are at greater risk of becoming isolated especially if they are living at home alone which is why our partnership with Sesen is so important," said Scott Lien, CEO of grandPad. "Our tablet is part of the solution in keeping seniors safe, connected and better able to enjoy things in life which enhance their overall health and well-being while Sesen provides the education, care advocacy and in-home care often needed by our growing senior population."
grandPad Inc. is known in the technology industry for its simple senior tablet, the grandPad. The tablet is specifically designed with the over 75-year-old in mind, and contains an array of applications from voice emails to video calls to music, games, and more.
Sesen Elder Care provides elder care education, elder care advocacy, elder care management and in-home care. The partnership with grandPad not only allows Sesen's clients to take advantage of the grandPad and all its features, but it also allows the company's professional care staff to securely use the company's cloud-based care management and educational systems. The grandPad Sesen App was specifically created for this purpose. Sesen's care professionals can use the app to access daily care plans and chart daily care.
"We believe many older adults are frustrated with using today's technology, limiting their enjoyment of the benefits provided by the internet - including music, staying connected with friends and family via email and video calls and sharing important and fun family photos. By combining the usability of grandPad with elder care support services, we are able to provide each of our clients a wonderful ability to stay better connected with family and friends, share memories and listen to favorite music, which we believe substantially improves plan of care outcomes and overall quality of life", states Jim Wambach, Founder and Managing Partner of Sesen Elder Care.
According to the U.S Census Bureau, as of 2010 approximately 11 million Americans 65 years of age and over lived alone, and this number has increased over the years. Social isolation often comes hand-in-hand in age with this demographic, often leading to negative effects on physical and mental health. Sesen's adoption of these grandPads could prevent or reduce this isolation amongst their clients by bridging the digital divide between families and helping the younger generations communicate with their elderly parents or grandparents.
Sesen has begun providing grandPads to its clients and will also assist in-home care providers in the Bay Area who recognize the improved service and cost benefits of utilizing one foundational tablet in the home, blending grandPad functionality with elder care education and in-home care management applications such as ClearCare™ and Carevium™ – now used by many in-home care providers and assisted living communities.
The companies will be working jointly and continue to build upon the existing grandPad capabilities to deliver additional capabilities focused on improving senior health and safety while reducing the overall cost of care.
About grandPad
grandPad was founded on the idea that current digital communications technology should be accessible to seniors. The mission behind the grandPad is that technology should be intuitive, engaging, transparent and not complex. grandPad has created a simple tablet that connects and helps seniors communicate easily with family and friends. Simple joys should be simple to share. To learn more visit: http://www.grandpad.net.
About Sesen Elder Care
Sesen Elder Care is an elder care services provider based in San Mateo, Calif., founded by Jim Wambach. The Sesen team consists of highly qualified and experienced people committed to making a difference in the lives of seniors and their families. Sesen advocates for the comprehensive coordination of care and partners with families, local communities and elder care professionals to establish a well-coordinated care team for the benefit of seniors and families. To learn more, visit http://www.SesenElderCare.com.