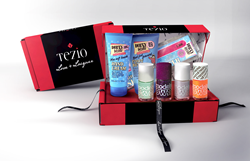 At Tezio, we aim to help nail polish enthusiasts connect with exclusive brands from around the world
Memphis, TN (PRWEB) August 18, 2015
The brand will launch its flagship product – Tezio Love + Lacquer sampler pre-fall 2015. This seasonal subscription-based box filled with hard-to-find nail lacquer and niche beauty brands is curated by beauty industry trendsetters. The goal of Tezio is to make it easier to sample and shop for international brands, as well as high end beauty brands in the United States.
Alongside the Love + Lacquer sampler, shoppers will compliment their lacquer experience with theColorscoop Magazine. theColorscoop, Tezio's online magazine, features trendy tutorials, a behind-the-scene peek into those coveted celebrity nail designs, and advice for your most pressing nail dilemmas.
"Tezio aims to help nail polish enthusiasts connect with exclusive brands from around the world," said founder Veronica Clayborn. "We believe exclusivity should equal accessibility, and Tezio provides that by giving women access to these rare, hard to find brands they desire. The dynamic nail polish industry yields new products on a continuous basis. Each season nail polish consumers anxiously await the launch of multiple collections from various brands. Tezio will make that process more convenient and fun."
To shop for exclusive brands and get the Love + Lacquer sneak peek box, visit http://www.tezio.com to register for a new account.
About Tezio
Launched in 2015, Tezio is the leading source and discovery platform for exclusive nail polish brands and insider information for nail enthusiasts. Tezio's Love + Lacquer subscribers will gain access to highly-coveted, sought after brands from around the world such as Models Own, Uslu Airlines, Teeez Cosmetics, and Barry M. To learn more about Tezio, visit http://www.tezio.com or follow us @tezioOfficial on Facebook and @tezio_official on Pinterest, Instagram, Twitter, Youtube, and Google+.