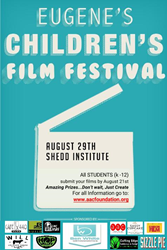 "Bringing Children's Dreams to The Screen"
Eugene, Oregon (PRWEB) August 18, 2015
The goal and purpose of starting the first Children's Film Festival in Eugene is to create an annual community event that enriches the youth of Eugene, entertains the community, provides a much needed outlet for creativity and art for children away from school, and pushes the youth of Eugene to excel in the arts and technology. It is also an opportunity to enhance digital literacy and is a platform for creativity and artistic expression that is currently not being offered in the Eugene area or many highly populated cities in the Northwest.
10 selected short films created by children and submitted for the festival will be shown at the event. A cast of local judges including local filmmakers Jay Jones and Dustin Whitaker, will be joined by the director of education and outreach at the Jordan Schnitzer Museum, Lisa- Abia Smith, as well as the Founder of Will Leather Goods and former Actor and current member of the Screen Actors Guild, Bill Adler. Bill Adler a giant advocate for youth, schools, education and art will be speaking at the event. Following the presentation of the top ten films as selected by the judges, will be a short awards ceremony recognizing those young filmmakers that excelled in their age group, or category. The AAC foundation is still accepting film submissions from all ages, and in every category up until August 21st. It is free to submit a film, just go to http://www.aacfoundation.org and fill out the submission form.
The Eugene Children's Film Festival is on Saturday August 29th, at the Shedd Institute (https://www.theshedd.org/). The doors open at 2:30 with a reception to follow sponsored by Sizzle Pie and Sassy Cupcake. Join this fun Eugene event for the great student-created films, and for the pizza and cupcakes afterward. To get tickets to this Eugene event: go to http://www.aacfoundation.org and make a ticket request, or pick up tickets at the door.