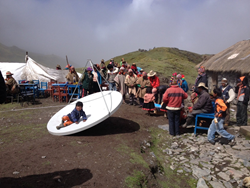 "By providing Internet connectivity in these indigenous communities, we are giving them access to the quality education and health care they need, and enabling them to stay connected with friends and loved ones around the globe,"
Miami, Florida (PRWEB) August 19, 2015
NewCom International, a global satellite communications provider dedicated to advancing education, health care and economic growth in remote regions throughout the world, has teamed with Kidnected World, an NGO that provides online creative tools to connect young people globally as a catalyst for greater humanity, to bring satellite-based internet access to indigenous children throughout the Americas and Africa.
The partnership combines NewCom's satellite communications technology and engineering expertise with Kidnected World's worldwide interactive youth network to provide the global connectivity necessary to improve the standard of living for indigenous tribes while celebrating and preserving their culture and way of life.
"By providing Internet connectivity in these indigenous communities, we are giving them access to the quality education and health care they need, and enabling them to stay connected with friends and loved ones around the globe," notes Dora Mejia, VP of Sales and Business Development for NewCom International. "We are also giving them the ability to share their knowledge and way of life with the world."
"At Kidnected World, we believe greater humanity depends on connecting a generation of young people through tools, spaces and experiences that deepen their connection to the world as they expand their awareness of each other," adds Jenn Cook, Executive Director of Kidnected World. "It requires an ecosystem where cultures can be preserved and shared, where technology expands rather than dilutes our communities and where the things we create bring us together and make the world better in tangible ways."
For their first collaboration, NewCom—working in conjunction with Peru-based NGO Willka Yachay—brought Internet access to schools servicing the indigenous Q'eros Nation in Qocha Moqo, a village located high in the Andes Mountains. NewCom donated a year's worth of satellite-based Internet connectivity, while Kidnected World provided their ecosystem of tools, spaces and experiences where the Q'eros kids can celebrate their culture and actively contribute to a new sense of global belonging.
Hannah Rae Porst, director for Willka Yachay, says the response from the community has been "sheer excitement."
"They are so happy to be connected to the world in this digital age," notes Porst. "With the Internet and creative tools provided, our students are connecting with students around the world. They also have the possibility of connecting with other indigenous youth to share and compare their precious cultural knowledge. After school, the computer and Internet are open to those who wish to use it—benefiting forty families in the village."
###
NewCom International, a global satellite communications provider headquartered in Miami with facilities in the Americas and Africa, specializes in rural connectivity, broadcast services, and integrated voice, video, data and content solutions for the public and private sector operators we serve. We are committed to leveraging the latest advances in satellite connectivity to help our local partners foster education, advance health care, enhance public safety and promote economic growth in remote regions around the world. For more information, please visit: http://www.newcominternational.com.
Kidnected World is a 501(c)3 non-profit organization connecting a new generation of young global citizens who understand, explore and reimagine the world together in powerful, unprecedented ways. Using a combination of technology and social innovation, Kidnected World creates tools and spaces where kids worldwide can connect—and then see the tangible impact for good their connection has on the world. Our first initiative to do this is the Wonderment, an online/app environment that brings kids together through collaborative creative challenges, and turns their shared imagination and interaction into a currency that is matched by brands and donors to fund social good projects that benefit kids around the world. For more information, please visit http://www.thewonderment.com.