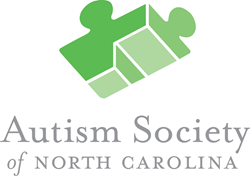 This workshop will be extremely helpful for caregivers and family members of individuals ages 14 and up.
Raleigh, NC (PRWEB) August 19, 2015
The Autism Society of North Carolina (ASNC) and the Jack Fanning Memorial Foundation - Angels for Autism will present a full-day workshop titled "22 and Beyond: Exploring Options and Strategies for Adults with Autism" on Saturday, Sept. 12, in Raleigh.
The workshop is aimed at families affected by autism and professionals who work with individuals with autism and will be co-presented by ASNC's Associate Clinical Director Louise Southern, M.Ed., BCBA, and Associate Resource Specialist Director Kim Tizzard, who is the parent of a 19-year-old son with autism. As Tizzard notes, "Services, processes, and waitlists can be extensive and difficult to navigate, which is why it is important for families to plan ahead. This workshop will be extremely helpful for caregivers and family members of individuals ages 14 and up."
Workshop objectives:

Help identify a starting point and plan for the adult phase of parenting a child on the autism spectrum.
Explore the basics around Individual Transition Plans (ITPs), guardianship, Supplemental Security Income (SSI), and residential options.
Identify key strategies to promote skills in the following areas: self-advocacy, independent living, organization and time-management, community involvement, and self-regulation of behavior.
The workshop will run from 9 a.m. to 4 p.m. at the Junior League of Raleigh, 711 Hillsborough St., Raleigh. Registration is $10 and includes lunch. Participants must register online by Sept. 9 at https://www.eventbrite.com/e/exploring-options-and-strategies-for-adults-with-autism-tickets-17137596011.
The Jack Fanning Memorial Foundation was formed to build and support group homes for individuals with autism. The goal of the foundation is to fulfill that quest by helping to establish group homes and by assisting in ancillary needs of group homes with the general education, development, and specific needs of people with autism.
Background:

Autism Spectrum Disorder (ASD) is a lifelong developmental disability that typically appears during the first three years of life. As many as 1 in 58 children may be diagnosed with ASD in North Carolina, according to a prevalence study by the CDC study of 8-year-old schoolchildren.
For more than 45 years, the Autism Society of North Carolina has worked to address areas of need and expand services for the autism community in North Carolina. ASNC works to directly improve the lives of individuals affected by autism by providing advocacy, education, and services.
For more information, call 1-800-442-2762 or visit http://www.autismsociety-nc.org.