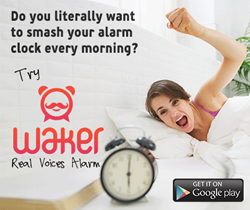 "Waking up doesn't need to be annoying, it could be excited and fun again", Founder & CEO, 98ideas - Joel Neuman
Brooklyn, New York (PRWEB) August 29, 2015
98ideas has announced its latest Android app, "Waker™ Real Voices Alarm", the newest revolution app for waking up. It is a free alarm clock app that makes people wake up fresh, motivated, soothed and cool.
Waker™ Real Voices Alarm is the first alarm that wakes people each morning with recordings of real people. Users can now calmly and gently wake up with the voices of real men, women, and children. Simply set the alarm according to people's own preferences of different voices with soothing background music. Waker has hundreds of recordings from multiple categories to choose from: Motivation Waker, Amusing Waker, and Jingle Waker.
Here's more information about the above Waker types. The first Waker, "Motivation Waker" starts each morning with new positive thoughts and encouraging inspiration that ignites users' fires to succeed each morning with motivational quotes from real voices accompanied by background music that will get users going from the moment they open their eyes. Next, the "Amusing Waker" is for people who prefer life on the lighter side, where they choose to wake up with humorous sayings and messages from real voices of real people. There's nothing better than starting a new day with a good laugh. Last but not least, the "Jingle Waker" replaces those annoying beeps with happy and fun jingles.
There are multiple light and amusing good morning songs exclusively for Waker that will ease users out of sleep feeling refreshed and ready to face the day. Therefore, wake up as never before to fun and real soothing voices with the exclusive "Waker™ Real Voices Alarm"
Waker™ Real Voices Alarm app is now available to download for free for all users and also users can upgrade to the premium version for more great Waker sounds. This app is available worldwide in English language on the Android Google Play Market.
Please visit http://www.wakeralarm.com for more Wake Up Alarm Waker™ Real Voices information including demo video and screenshots of the app.
Waker™ Real Voices Alarm is developed by 98ideas.com, a web and mobile app development company. To get further information about Waker™ Real Voices Alarm or want to schedule an interview, please contact:
Company: 98ideas
CEO/Founder: Joel Neuman
Phone: +1718 2084781
Email: joel(at)98ideas.com
Skype: skype98ideas
To download the app: http://tiny.cc/xhvu1x
Video Demo: http://tiny.cc/n8dv1x