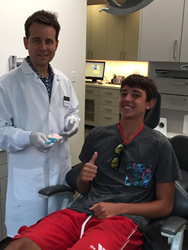 We believe strongly in community giving and thought a long time about a way we could give back to the community in a meaningful way – something only we could offer
Louisville, CO (PRWEB) August 18, 2015
Although they may be only high school students, Monarch High School's football team got to play like the pros -- at least in their mouths -- through a generous donation of mouthguards designed for the NFL from Studio Z Dental, a local dental office in Louisville, CO.
"We believe strongly in community giving and thought a long time about a way we could give back to the community in a meaningful way – something only we could offer," said Dr. Tom Zyvoloski. "Protecting kids not only from concussions, but protecting them from dental injuries [with these custom mouthguards] as well seemed like the perfect way to give back."
Wearing a properly fitted mouthguard while participating in sporting events is one of the best ways to prevent injury and thousands of dollars in dental work. Athletic mouthguards are simple pieces of protective gear, yet they provide a fantastic service: protecting the teeth and mouth from significant damage. The high-impact nature of football makes its players the most vulnerable to concussions, not to mention the fact that it has also been shown that football athletes suffer from the highest number of concussions, something that young players' parents must be made aware of.
The dental staff's fitting event with the Monarch High School Football Varsity/JV players in order to produce free, custom, mouthguards designed for the NFL was a huge success. The walk-in event happened on Monday, August 10 and Tuesday, August 11 from 5pm to 7pm. During this time, the staff took impressions and provided a total of 46 students with mouthguards designed for the NFL. Studio Z Dental subsequently provided $20,000 in free mouthguards to community athletes.
"With all of the mouthpieces on the market, it is very difficult to know which one provides the best protection," wrote Mark Sibley, the Vice Principal at Monarch. Sibley is also a parent (of a monarch football player)and the school's former athletic director. "Studio Z Dental has not only provided my son with the same concussion protection mouthpiece that is used in the NFL, it has also provided me with peace of mind that he has the safest mouthpiece on the market! Thank you, Studio Z Dental, for providing this free service to our community!"
The types of mouthguards created at Studio Z Dental were designed by Dr. Derric DesMarteau, the late team dentist for the NFL Oakland Raiders. The mouth guards feature an ethylene vinyl acetate material that results in a two-layer, laminated guard thick enough to provide the desired protection yet not so bulky as to be uncomfortable.
Contact Studio Z Dental today at (303) 802-4313, online at http://studiozdental.com, or in person at 818 W South Boulder Rd in Louisville, CO, to learn more about custom mouthguards or to schedule a dental appointment.