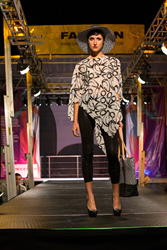 A showcase of the city's innovative, emerging talent.
Chicago, IL (PRWEB) August 19, 2015
The Windy City's premier fashion event, Chicago Fashion Fest, is returning to Wicker Park for a seventh consecutive year on August 29 and 30 (http://www.chicagofashionfest.com). Chicago's burgeoning fashion scene will be presented over two days and nights, highlighted by local designers, cutting edge retail, and couture runway shows under the stars. The weekend celebration of local fashion talent also features lots of summer street fest fun, including local food vendors, a Shopper's Row, family and pet activities, a VIP Fashion Suite & Sangria Lounge, and live music programmed by Wicker Park's own Subterranean.
"Chicago Fashion Fest is a showcase of the city's innovative, emerging talent," says creator and producer Michelle Gomez, owner of M.GO Fashion Company. "In collaboration with Chicago's Fashion District, Wicker Park/West Town, we're aiming to turn the Division corridor into the city's biggest fashion and shopping destination!"
A new and exciting element this year is the "IT GIRL" runway competition presented by Jaslene Gonzalez, winner of America's Next Top Model. Using hashtag #strutit2015, over 400 potential contestants submitted their most fashionable selfies over the last few weeks. 2nd and 3rd place will receive Cha Cha Diva model bags and coaching by Jaslene before walking in Chicago Fashion Fest's Sunday Day Show, and 1st place will receive a one-one-one modeling workshop with Jaslene before being featured in Chicago Fashion Show's main show on Saturday night.
The focal point of Chicago Fashion Fest is the massive, fashion stage with 60-foot catwalk that engulfs a large stretch of Division. It's here, where models from My Dreams Models strut their stuff donning "what's hot" for the end of summer and fall 2015 from local designers, boutiques, and artists. The weekend runway presentations will be led by host Natalie Martinez of NBC Chicago. Other hosts include Whitney Reynolds of PBS, Lourdes Duarte of WGN, and Jaslene. Over 20 unique fashion runway shows (15-20 minutes each) are included over the two days, with segments like: vintage, back-to-school, curvaceous, bridal, kids, and even pets. Fashions will be presented by the likes of young teen designers Clarke White, Griselda Escobedo, Alina Srichinda and Myia Esper – students from Whitney Young Magnet High School, and salons and boutiques such as: Steven Papageorge Salons, Sorelle Salon & Boutique, Marquin Salon, Chiro One Wellness, and many more. Refer to http://www.chicagofashionfest.com for the full runway schedule.
Music:
This year, Subterranean has booked the Main Stage live music lineup. The full schedule is as follows:
Saturday
8:30 – The Mowglis
7:20 – Wild Party
6:10 – Sleepy Kitty
5:00 – Finish Ticket
4:00 – GGOOLLDD
3:00 – Ryan Powers & The Secret Weapons
Sunday
8:50 – The Black Lips
7:20 – Honeyhoney
6:10 – Arkells
5:00 – Hollow Mountain
4:00 – Celine Neon
3:00 – Dam Gila
Wicker Park After Dark:
As always, the main draw at Chicago Fashion Fest is the dazzling runway shows each night at 8 pm called Wicker Park After Dark. These red carpet extravaganzas attract paparazzi, VIPs and celebs (general public invited too). TV personality Natalie Martinez will host Wicker Park After Dark, where fashion socialites receive the red carpet treatment before the featured nightly show begins under the spotlights. Elite Chicago designers sponsored by Icon Model House will include Anna FongOUT, Anastasia Chatzka, Borris Powell, Christopher Carrillo, Prin by Prina and Wanda Cobar. Also, Wicker Park's very own innovative Pocket Poppet, founded by Helen Tyler and Karen Hill-Krolow, will be featured on the runway, with garments 'popping' out of their pocket ready to wear.
VIP Fashion Suite & Sangria Lounge:
The VIP Fashion Suite & Sangria Lounge is where the who's who of Chicago's fashion scene rub elbows. A VIP ticket will get guests exclusive access to an option of day and/or night series of fashion shows, as well as a red carpet photo, preferred runway show seating, a swag beauty bag with lots of goodies, samples and discounts, and plenty of snacks and drinks. There is also a separate sangria and wine tasting option for those who want to imbibe before Wicker Park After Dark. Tickets are available by clicking here.
Shoppers Row:
Chicago Fashion Fest also includes an on-site "Shopper's Row," home to over 50 booths and storefronts of local fashion designers, boutiques, and salons and Sidewalk Sales – each boasting great deals on their merchandise. Attendees are encouraged to visit: Dynamic Salon's twenty foot booth space for chic salon services like mood changing nail polish manicures and braiding & blowouts, Elevenzees who is featuring their hand poured candle collection, Kuhfs personally designed by Amy Olson, Baraka Handmade Ethnic Jewelry, hand-crafted Mistura Timepieces, Enfiniti Designs, and the doggie fashion show sponsored by Canine Crews, which features Pampered Pooch Couture and Bentley's Corner Barkery.
In addition, a dedicated kiddie fest area will give way to face painting, temporary tattoos, bounce houses and kid's mechanical bull rides. All of this is not to be outdone is the fashionable Pet Fest – with activities, vendors and treats exclusively for Man's Best Friend (who's allowed access to Chicago Fashion Fest on a leash).
Fine Print:
Chicago Fashion Fest takes place on Division Street between Damen and Wood on August 29 and 30. There will be a $5 donation requested which benefits A Safe HavenError! Hyperlink reference not valid., Alive Rescue and One Tail At A Time. Visit http://www.chicagofashionfest.com for all the latest details.
High resolution press photos available by clicking here.
Media Contact:
Jody Grimaldi
630/470-0044
Jody(at)GrimaldiPR(dot)com