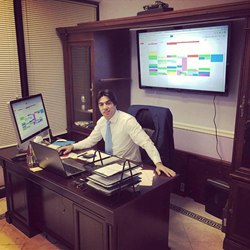 Remodeling should be a joyous process!
Columbia, MD (PRWEB) August 19, 2015
As a leader in remodeling technologies since its inception, VKB Kitchen and Bath continues as a driving force in trends as it releases a new client portal specifically designed to help people in the process of remodeling a kitchen or bath better manage what is usually a confusing, uncertain process. CEO of VKB Kitchen and Bath Paul Panah Ibrahimov is committed to advancing the remodeling process.
"Homeowners are anxious when facing a remodeling project," Ibrahimov said. "They have usually never been through it before, and there's a million things to learn and navigate. Our client portal helps ease their fears and gives them control over the multiple points of contact and the hundreds of decisions to be made."
A remodeling business on the cutting edge, VKB Kitchen and Bath's new portal streamlines project management and makes building projects easier and fun.
"Remodeling should be a joyous process," Ibrahimov continued. "Our team has heard about and experienced their own contractor horror stories. We created the portal to be a one-stop-shop for homeowners going through a remodeling project."
While VKB Kitchen and Bath has only been around since 2013, its commitment to high-quality workmanship has propelled revenues into the multimillions. Their drive to provide value to clients translates to delivering technologies like the portal to aid in the remodeling process. The portal's features include:

Streamlined communications.
Reminders about upcoming steps in the remodel project
Financial overviews.
Online approvals.
Project tracking.
Web-based photo gallery of progress.
Team discussions grouped by topic.
The company has also dedicated resources to helping homeowners navigate the uncertain process of contractor selection. Without previous remodeling experience, choosing the right contractor is difficult. Word-of-mouth recommendations, even in the online world, mean more to potential customers than marketing-speak. VKB Kitchen and Bath has dedicated resources to providing video testimonials from real clients showing real project results. In addition, VKB Kitchen and Bath's commitment to customer service is evidenced by regular monthly quality assurance meetings, which help the team stay on top of trends and promptly respond to client feedback.
About VKB Kitchen and Bath: A kitchen and bath remodeling company, VKB Kitchen and Bath is a trend-setting industry leader offering cutting-edge technology and high-quality workmanship. Covering every step in the remodeling process from designing to building to project management, VKB Kitchen and Bath is blazing a trail of quality, value and satisfied customers.