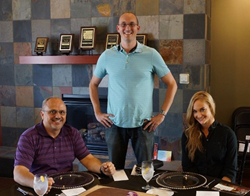 Masterpiece Cuisine was founded in 2007 by Scott Mahan and Tim Welc, working in a tiny home kitchen with big ideas about becoming Las Vegas' top caterer.
Las Vegas, Nevada (PRWEB) August 19, 2015
Masterpiece Cuisine was recently chosen as the preferred caterer for the newly renovated, Chimera Golf Club at Tuscany, in Henderson, Nevada, on Olivia Parkway. The Club's new owner, Tom Burke, has made numerous upgrades and spared no expense in order to enhance each guest's enjoyment. In keeping with the spirit of selecting only the best for his guests, Masterpiece Cuisine, also located in Henderson, on Water Street, will be the preferred caterer for all major events, such as, golf tournaments, weddings, corporate events, and private parties for up to 200.
One of the reasons Burke chose MPC, besides a successful Tasting and a personal recommendation, was that it has more online five-star reviews than any other caterer in the City. For the past six years it was voted Best Wedding Caterer by The Knot, and received The Wire's, Bride's Choice Award. MPC's clients include Zappos, Mob Museum, Nike, MEET Las Vegas, Madame Tussauds, Scheme Events, and more. Masterpiece Cuisine maintains its edge by adhering to the adage that it is only as good as its last event! Burke's thinking was that that many people can't be wrong, which helped him to decide on Masterpiece Cuisine.
THE TASTING
Masterpiece Cuisine understands that thoughtful pairings can create a flavor experience that enhances both food and drink. The right pairing combinations can augment balance, depth, and complexity by contrasting and mirroring elements to improve the taste of food and drink when they combine in your mouth. MPC started the Tasting courses with a series of delicious appetizer pairings.
The First Course consisted of three appetizer pairings. (1) Crispy prosciutto wrapped asparagus paired with a non-alcoholic apple mojito; (2) Pancake bites with whipped cream and a strawberry, paired with a house made strawberry lemonade, and (3) roasted chicken on an endive leaf, paired with a rosemary citrus spritzer. The Second Course was a beautifully balanced strawberry walnut salad dressed with a berry vinaigrette. The Third Course featured garlic glazed chicken breast with a blend of couscous and basmati rice with toasted almonds, accompanied by fire-grilled asparagus. The Fourth Course spotlighted salt and pepper roasted tri tip, with buttermilk mashed potatoes, and an herb-savory fire-roasted vegetable medley.
Masterpiece Cuisine, which holds memberships in WIPA (Wedding Industry Professionals Association), NACE (National Association for Catering & Events, and the Henderson Chamber, was founded in 2007 by Scott Mahan and Tim Welc, working in a tiny home kitchen with big ideas about becoming Las Vegas' top caterer. Seven years later they succeeded and expanded to Santa Fe. As a way of giving back to the valued vendors and clients who helped make it a top caterer, MPC held a lavish appreciation dinner at its kitchen in Henderson recently. The press release was picked up by Catersource Magazine and featured in their online column, Get Fresh. http://www.catersource.com/food-beverage/nevadas-masterpiece-cuisine-says-thanks
MPC anticipates a long working relationship with Chimera Golf Club, one of the most popular courses in Nevada, which also boasts unobstructed views of The Strip, Old Vegas, and snow-capped Mt. Charleston. In addition to bringing in a top-notch caterer, Burke has also upgraded all the furniture indoors and out, and added new tableware designed by Food Network Chef, Guy Fieri.
http://www.masterpiececuisine.com
http://www.chimeragolfclub.com