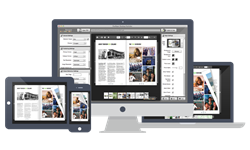 FlexPaper turns your PDF into a beautiful, responsive digital publication that you can access on any device anywhere.
(PRWEB) August 19, 2015
The FlexPaper Project introduces FlexPaper Reflow, the next revolutionary software for re-publishing PDF documents online. This product converts static PDF documents into 100% re-flowable documents to fit any device. Always delivering a crisp, sharp output.
The PDF file format has never been meant to be used on the web as a reading format. The strength of PDF has been in traditional print publishing and not online publishing. Its static format forces the user to zoom in and out destroying the reading experience, making it obsolete.
Up until now, publishers have either been using e-book delivering software to convert books, a flip page software to publish magazines or just uploaded their PDF to the web as is. With FlexPaper Reflow, publishers and web developers can get all of this in one publishing tool delivering beautiful HTML5 to fit any browser and size.
Flexpaper Reflow also comes with an adaptive mode that lets the publisher keep the original layout, in a similar way as the fixed layout format does for ePUB documents. Best of all, it allows the creator to edit the PDF document.
Whether the publisher is reflowing the PDF document or using the adaptive mode, it puts the creator of the document in full control over the publication. The desktop publisher allows the document to be tested in different formats using just a few clicks. These are just a few of the options FlexPaper reflow offers.
FlexPaper Reflow also reduces the file size significantly, in many cases to much smaller sizes than of the original document. This is a great feature to speed up the uploading and loading time for websites and other devices such as tablets and smartphones.
A demo of FlexPaper Reflow is available already at
http://flexpaper.devaldi.com/download/
The FlexPaper Project started its online document viewing journey in 2010, when it launched it first online document viewer, the classic FlexPaper viewer. This highly popular product was followed by Zine Flipbook viewer, which is one of the most popular document viewer products online today.
Want to know more about FlexPaper's other products? Click here: http://flexpaper.devaldi.com/