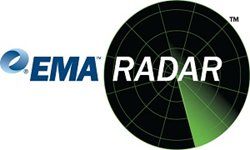 Boulder, Colo. (PRWEB) August 18, 2015
Enterprise Management Associates (EMA), a leading IT and data management research and consulting firm, today announced it will host a research webinar titled "Mid-Sized Organizations Business Intelligence EMA Radar," featuring John Myers, managing research director at EMA, and Lyndsay Wise, research director at EMA.
Over the past several years, business intelligence platforms for mid-sized organizations (under 500 headcount) have evolved. The market place has shifted to provide flexible solutions to meet the analytical needs of these organizations and ensure low total cost of ownership and quick time to value. The EMA Radar report is designed to capture this changing market landscape and identify how business intelligence platforms are meeting the business demands of these organizations.
This year's EMA Radar will examine the latest design points, as well as strengths and weaknesses of vendors, each with its own unique approach to the components of the EMA Business Intelligence Continuum: data acquisition, data management, business analytics, knowledge presentation and actionable intelligence.
During this webinar, Myers and Wise will provide:

The latest insights about the business intelligence platform marketplace for mid-sized organizations
Information about how various use cases fit into both mid-sized organization business models and the feature sets of product vendors
A summary mapping of vendor strengths and limitations across multiple evaluation criteria including: production functionality, architecture and integration, and cost advantages
Solutions from the following vendors will be covered:

Chartio
GoodData
Information Builders
Jinfonet
LogiAnalytics
Qlik
SAP
Tableau
Yellowfin
This complimentary webinar is Tuesday, August 25, 2015 at 11:00 a.m. Eastern. Those who wish to attend can register at: http://research.enterprisemanagement.com/mid-sized-bi-radar-webinar-pr.html
About EMA
Founded in 1996, EMA is a leading industry analyst firm that specializes in providing deep insight across the full spectrum of IT and data management technologies. EMA analysts leverage a unique combination of practical experience, insight into industry best practices, and in-depth knowledge of current and planned vendor solutions to help its clients achieve their goals. Learn more about EMA research, analysis, and consulting services for enterprise line of business users, IT professionals and IT vendors at http://www.enterprisemanagement.com or blogs.enterprisemanagement.com.