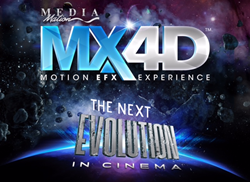 "The new Showcase MX4D theatre is part of MediaMation's corporate initiative to expand its presence in the U.S. cinema market . . . " -- Dan Jamele, MMI CTO
Revere, MA (PRWEB) August 18, 2015
An enthusiastic crowd of prominent local media and movie industry lights gathered at the official opening of Showcase Cinema de Lux Revere's new MX4D® Motion EFX Theatre. The premiere, staged Thursday, August 6, at the newly refurbished, 20-screen venue, featured a special screening of Universal's dinosaur blockbuster, "Jurassic World," to demonstrate the full "crowd-pleasing" potential of this new immersive movie format.
"4D" technology allows audiences to "feel" the onscreen action, such as the ground shaking with the approach of a monstrous T-REX, the frenetic turns of a terrified jeep driver, or the strong winds created by explosions and other calamities. The various special effects are created by a combo of "pitch, heave and roll" motion seats and in-theatre technology. Other effects include neck and leg ticklers, seat poppers, air blasts, light water sprays, scent, fog, wind and more.
Showcase Cinema de lux Revere presented a "soft opening "of its Showcase MX4D® theatre for the general public on Friday, July 31 also showing "Jurassic World." Initial reactions from movie-goers to the new MX4D® Motion EFX theatre were that it was a "completely heightened experience, life-like, terrifying and surprising all at the same time," noted theatre manager, David Maloney.
Plans for the Revere MX4D® installation were originally announced April 2015 at CinemaCon in Las Vegas by National Amusements, owners of Showcase Cinemas, and 4D manufacturer and interactive technologies company MediaMation, Inc. Showcase Cinemas de Lux Revere is the first MX4D® cinema theatre on the U.S. East Coast, and only the second such movie theatre install in the nation. MX4D®, the branded 4D technology pioneered by MediaMation, is currently well-received in numerous foreign markets, with recent installs for major cinema chains in China and Japan, as well as Mexico, Colombia, the Caribbean and the United Arab Emirates.
Reflecting on the MX4D® debut, Duncan Short, vice president, USA and international operations, National Amusements, shared his excitement for the positive first reactions: "Our goal is always to provide the best possible movie-going experience, and this new in-theatre offering has the potential to revolutionize the cinema industry and provide a sought-after new option for our movie-goers, one that they have been waiting for and are excited to now have right here in Revere."
Observed Dan Jamele, vice president/CTO, MediaMation: "The new Showcase MX4D® theatre is part of MediaMation's corporate initiative to expand its presence in the U.S. cinema market, and we anticipate the theatre will be a highly popular draw. National Amusements did a great job staging the official premiere, and the many media representatives in attendance were eager to learn more about our next-generation cinema technology – it elevates the movie-going experience to a whole new plane."
Added Heather Blair, MMI head of cinema sales, a few days following the event: "With the successful opening of the Showcase MX4D® theatre in Boston, we are finding several other large domestic cinema chains are expressing a new level of interest in MMI's MX4D® technology. We anticipate announcing some new partnerships in the very near future."
ABOUT NATIONAL AMUSEMENTS, INC.
National Amusements, Inc. is a world leader in the motion picture exhibition industry operating more than 950 movie screens in the U.S., U.K. and Latin America.
National Amusements delivers a superior entertainment experience in theatres around the world under its Showcase, Multiplex, SuperLux and Cinema de Lux brands. Based in Norwood, Massachusetts, National Amusements is a closely held company operating under the third generation of leadership by the Redstone family. National Amusements is also an equal partner in the online ticketing service MovieTickets.com and is the parent company of both Viacom and CBS Corporation. Visit them at http://www.showcasecinemas.com.
ABOUT MEDIAMATION, INC.
For more than 24 years, MediaMation has provided innovative and visionary technological solutions to the entertainment market. MediaMation is an interactive technology company and a worldwide, leading supplier and manufacturer of patented technology for 4D/5D motion EFX theatres and seats. Besides its MX4D® Motion EFX technology and seats, MMI designs and implements creative solutions for complex shows, rides exhibits, fountain shows, etc. for theme parks, zoos, aquariums, museums, cinemas and FECs. From concept to design to installation, MediaMation provides turnkey solutions to creating state-of-the-art 4D theatres and themed environments. For more information, visit http://www.mediamation.com, http://www.MX-4D.com, call 310.320.0696 or email: sales(at)mediamation.com.