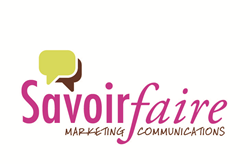 The Hubspot Certified Partner designation confirms our commitment to partnering with Hubspot to help businesses transform how they market and sell using inbound marketing strategies. ~Stephanie McLaughlin
Manchester, NH (PRWEB) August 18, 2015
While it has been a Hubspot inbound marketing partner since 2010, Savoir Faire Marketing/Communications announced today that it has become a Certified Agency Partner. One of the earliest Hubspot partners in New Hampshire, Savoir Faire has held Inbound, Hubspot and Design certifications for several years.
"The Hubspot Certified Partner designation confirms our commitment to partnering with Hubspot to help businesses transform how they market and sell using inbound marketing strategies," said Stephanie McLaughlin, principal of Savoir Faire Marketing/Communications. "This certification completes Hubspot's suite of accreditation, which demonstrates our mastery of both inbound marketing philosophy and the Hubspot platform."
HubSpot, the world's leading inbound marketing and sales platform, works hand-in-hand with Agency Partners to serve Hubspot customers through inbound marketing solutions, software, services, and support.
HubSpot Channel Account Manager Buck Flather said, "Savoir Faire's savvy, sophisticated, and innovative approach to inbound makes them a company that businesses everywhere can learn from."
As a long-time inbound marketing partner, Savoir Faire is also the manager of the local Hubspot User Group, called the Southern NH Hubspot User Group, or SNHHUG for short. The group meets at least quarterly to talk about inbound marketing generally, and using the Hubspot software.
Savoir Faire also participates in Hubspot's Beta Program, helping to shape and improve the continuously-developing platform.
About Savoir Faire
Savoir Faire is an integrated marketing firm that sits at the crossroads of traditional and digital marketing, with an adventurous spirit when it comes to evolving disciplines. The firm works with business owners or other decision makers who may be overwhelmed with all the things they could be doing to market their businesses, but frustrated about choosing the right things – the ones that will make a difference in their bottom line. Savoir Faire offers services in web development, digital marketing, traditional marketing as well as inbound marketing. To learn more about Savoir Faire, visit http://www.savoirfaire-us.com, follow us on Twitter at http:// http://www.twitter.com/savoirfairemc, or become a fan on Facebook at, http://bit.ly/pp8d4.
About HubSpot
HubSpot ($HUBS) is the world's leading inbound marketing and sales platform. Since 2006, HubSpot has been on a mission to make the world more inbound. Today, over 15,000 customers in more than 90 countries use HubSpot's software, services, and support to transform the way they attract, engage, and delight customers. HubSpot's inbound marketing software, ranked #1 in customer satisfaction by VentureBeat and G2Crowd, includes social media publishing and monitoring, blogging, SEO, website content management, email marketing, marketing automation, and reporting and analytics, all in one integrated platform. Sidekick, HubSpot's award-winning sales application, enables sales and service teams to have more effective conversations with leads, prospects, and customers. Recognized by Inc., Forbes, and Deloitte as one of the world's fastest-growing companies, HubSpot is headquartered in Cambridge, MA with offices in Dublin, Ireland, Sydney, Australia, and Portsmouth, NH. Learn more at http://www.hubspot.com.