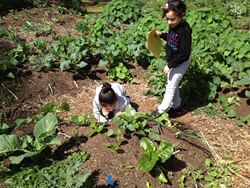 "The outstanding projects are innovative, inquiry-driven, and promise to improve instruction and student learning."
Salt Lake City, UT (PRWEB) August 20, 2015
In a time of increased interconnectivity it seems ironic that we are as disconnected from one another as we have ever been. The aim of many of the funded projects supported by McCarthey Dressman Education Foundation this year is to increase connectivity with the community. Whether through Art History, college campus exposure, or remote controlled robots, projects this year focus on bringing students and educators closer to the community, or in the case of one particularly unique project, bringing the science community to them. It is going to be an exciting year for many students, especially if they will participate in one of the projects selected for funding by the McCarthey Dressman Education Foundation.
Sarah J. McCarthey, President of the Foundation, stated, "The outstanding projects are innovative, inquiry-driven, and promise to improve instruction and student learning. Projects are taking place in a variety of settings from classrooms, to summer camps to online and even to South Sudan."
The projects cover a wide range of topics, but their focus on community connectivity is clear.
The Art History Enrichment Club, proposed by educators at the NYOS Charter School, will use art history as a framing device for community involvement; students in the club will take excursions to museums and learn about art forms throughout history. Not only will students observe art in their communities students, but they will also gain a cultural reference point for how art is all around us, including in create art projects that will be shown at the NYSO art show.
Aquaponics: Growing our own Food Sustainability is an imaginative project occurring at the Al Raby School for Community and Environment. Students will build an aquaponics lab using the scientific method, then cultivate and harvest a number of different fruits and vegetables with the goal of selling the produce to local businesses and individuals. Students will gain an appreciation for how food comes to their table and deepen their connection with the community.
Did you know there is an army of robots being assembled and released into the rivers around Portland? Instead of wreaking havoc, they are monitoring the river for pollutants. Students at Portland Lutheran School involved in the Beaver Creek Stream Channel Study & Restoration Project get to build their own robots and use them to monitor stream activity. The data gained will be shared with local environmental groups and a selected project will be presented at the SOLVE Green summit.
In 2015-16, the Foundation has funded five new Academic Enrichment Grants at schools serving minority and economically disadvantaged students; two Teacher Development grants with similar demographics; and three student teacher scholarships. Recipients include:
Academic Enrichment Projects

Summer Program -- David Kubacki – Nativity Preparatory School of Wilmington, Wilmington, DE
Beaver Creek Stream Channel Study & Restoration Proj -- Kieffer Tarbell -- Portland Lutheran School -- Portland, OR
Aquaponics: Growing Our Own Food Sustainably – Michael Kosko -- Al Raby School for Community and Environment – Chicago, IL
Village Science Project – Candacia Greeman – San Diego, CA/Sudan
Art History Enrichment Club -- Melissa Hefner – NYOS Charter School – Phlugerville, TX
Teacher Development Projects

Boston Integration Network: Connecting Boston Teachers to Improve and Investigate - Teacher Development Digital Learning in Urban Settings – Elizabeth Homan – Boston Public Schools - Roxbury, MA
Collaborative Integrated Learning – Katherine Crawford – Wood Middle School - Alameda, CA
Scholarship Recipients

Melissa Guzman – University of California Santa Cruz – Fontana, CA
Ryan Thomas – University of Texas at Austin – Austin, TX
Stephanie Laranjeira – Stephen F. Austin University – Irving, TX
The mission of McCarthey Dressman Education Foundation (mccartheydressman.org) is to serve as a catalyst in maximizing the skills and creativity of educators at the K-12 levels and in cultivating pioneering approaches to teaching that result in dynamic student learning. The Foundation sponsors proposals that enhance student learning and educational quality, paying particular attention to those that best serve under-funded schools. The application deadline is April 15 of each year for proposals with significant potential to enrich the educational experiences for youth.