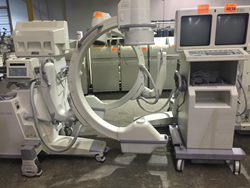 Chicago, IL (PRWEB) August 18, 2015
Centurion Service Group, the world's largest medical equipment auction house, is proud to announce the upcoming live auction to sell over 4,200 pieces of medical equipment.
The auction will take place Tuesday, August 18 and Wednesday, August 19 starting at 9:00am CDT each day. The equipment will be sold at their Chicago warehouse located at 1400 N. 25th Avenue, Melrose Park, IL 60160. Anyone can participate in the auction, including those off site. Centurion Service Group will be offering online simulcast bidding and theater style bidding.
Registration information and the complete list of medical equipment can be found at http://www.centurionservice.com.
A few highlights of the sale are: a Jackson-Mizuhosi 5803 Spinal Table, GE OEC 9800 C-Arms, a Steris V-120 Prevac Sterilizer, Fabius GS Anesthesia Machines, Lasers (including Lumenis IPL Quantum, Smartlipo, Sciton Yag & Cynosure), Hill Rom Total Care Sports, Midmark 75L Power Chairs, Nellcor Puritan Bennett 840 Ventilators, a Wild M691 Surgical Microscope, GE AMX 4 Portable X-Ray Systems, and much more!
For more information on this auction or upcoming auctions, please visit http://www.centurionservice.com.