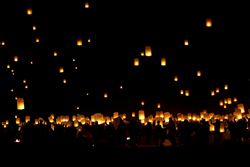 We want to make sure each participant has an amazing experience
Grand Rapids, MI (PRWEB) August 18, 2015
The Lantern Fest announced that their spectacular event has been moved to September 26 to ensure the best possible experience for participants. Due to circumstances outside event organizers' control, the event venue has also been changed.
"We want to make sure each participant has an amazing experience," said Lantern Fest event director Spencer Humiston. "The Kalamazoo Speedway will better serve the needs of our participants and create an unforgettable atmosphere."
This family-friendly festival promises a night to remember. There will be live music, activities for kids, s'mores and, after sunset, thousands of glittering lanterns filling the sky. The revelers below will gaze upwards as their hopes, dreams and wishes sail into the evening air. If participants cannot attend the event at the new location they can email The Lantern Fest to receive a full refund.
Event organizers are passionate about reducing litter and protecting the environment. Lanterns are 100 percent biodegradable, and the company sends out a team to collect fallen lanterns after the event. This crew also picks up other litter they find, leaving the city cleaner than they found it. Event organizers have worked closely with the Fire Department to eliminate any risk of fire.
"We have launched more than 30,000 lanterns this year without a single incident of ground fires," said Humiston. "We obey all rules and regulations implemented by local fire departments and have implemented our own procedures which go above and beyond what is required by county officials."
Lantern Fest organizers are anticipating a huge crowd for the event at Kalamazoo Speedway. They have diligently made preparations in order to give participants an evening of beauty, magic and breathtaking visuals. The Lantern Fest also partners with a local charitable organization in each area visited. All are invited to sign up for this magnificent event through Lantern Fest's website.
Lantern Fest tickets come with a s'mores kit, lighter, marker for decorating and a lantern and are available at http://www.thelanternfest.com/events/grand-rapids. Participants are encouraged to sign up before August 22 to take advantage of the Early Bird Pricing.