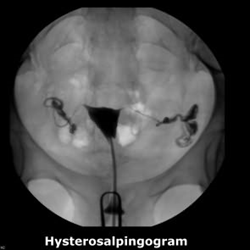 Houston, TX –
(PRWEB) August 18, 2015 -- An HSG is an X-ray test that examines the uterus and the fallopian tubes of a patient. It is one of the main tests for someone who is beginning treatment for infertility. HSG helps the doctor to confirm that a woman's fallopian tubes are open and can also assess the quality of the uterus, which is important during conception.
Typically, an HSG is performed during a hospital visit; however, AFCT can comfortably perform an HSG during an in-office visit, making it more cost effective and time efficient for the patient. An HSG can be performed at any of AFCT's three locations in Memorial City, The Woodlands, and College Station.
During an HSG, a radiographic dye is injected into the uterine cavity through the vagina and cervix. An X-ray called fluoroscopy is used to visualize the dye inside of the uterus and the fallopian tubes to find out if there is tubal occlusion or any other tubal or uterine abnormalities. Preliminary results are available immediately, and Dr Michael Allon will discuss the results and answer any questions that a patient may have. Fear of the unknown can make anyone weary, but most patients are surprised at how painless, quick and affordable an HSG actually is.
About the center:
Advanced Fertility Center of Texas and Dr. Michael Allon has several fertility treatment centers located throughout the Houston metropolitan area, in, Memorial City, The Woodlands and College Station, offering the most comprehensive, cutting-edge fertility services available. We assist couples and individuals in experiencing the joy of parenthood by providing the entire range of fertility services on-site, including artificial insemination, injectable gonadotropins, and in vitro fertilization treatment as well as treatment for endometriosis, polycystic ovary syndrome, and other gynecologic conditions.
To schedule an appointment to find out more, please call (713) 467-4488, ext 31. You may also email us at info(at)afctexas(dot)com or visit our website at: Advanced Fertility Center of Texas.