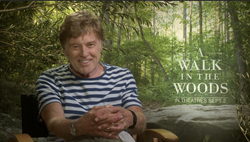 I was captivated by the book 14 years ago and I thought this would be a wonderful film.
Los Angeles, California (PRWEB) August 20, 2015
Android TV's Kelly Bruggere sat down one-on-one with Robert Redford, director and star of the new film "A Walk in the Woods," based on the book by acclaimed author Bill Bryson. Redford, who stars as travel writer Bill Bryson, takes a long-lost friend named Katz, played by Nick Nolte, on an ambitious 2,000-mile hike across the Appalachian Trail.
Many years ago, Redford had hoped to co-star with long-time friend Paul Newman. However, he explained why Nick Nolte was a perfect fit for the character. "It felt more organic because we were both similar age, had very similar backgrounds," he said.
Kelley asked director Ken Kwapis about the difficulties of making a film that demands a lot of physical action for older actors. He said the hiking gear and props were heavy, and having to re-shoot scenes was sometimes taxing for Redford and Nolte, who are now in their 70s. Ken also discussed his specific experience directing Redford, and how they handled their roles in the production. Redford is the developing force behind the film, one of the producers and also is an Oscar-winning director ("Ordinary People").
Nick Nolte, who plays "Katz," a character who has approached life opposite to Redford's "Bill Bryson," told Kelley how much he enjoyed working with Redford, Kwapis and the rest of the cast. Nolte spoke humbly and reflectively about his own life and how his experiences aided in the development of his role.
Redford and Nolte, with the direction of Kwapis, bring "A Walk In The Woods" to life and show us how to keep propelling life forward, no matter how old we are or how limited we may seem. They do it with laughter and some good buddy talk, all while surrounded by the beauty of the Appalachian Trail.
The supporting cast includes Emma Thompson, Mary Steenburgen and Kristen Schaal. "A Walk In The Woods" runs 104 minutes, is rated R and opens nationwide Labor Day weekend.
Android TV™ founder Fernando Escovar was at the press junket with Kelley and said, "We need more films like this. Redford & Nolte together is historic and it's fun to watch these Hollywood legends."
Visit AndroidTV.com & Facebook.com/AndroidTV for these interviews!