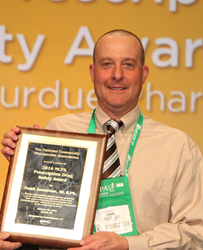 Using the right dispensing technology just makes good business sense.
Lake Forest, IL (PRWEB) August 19, 2015
The majority of award-winning community pharmacies trust Kirby Lester prescription dispensing technology, according to an analysis by the pharmacy automation provider.
Of the U.S. community pharmacies that received a major national pharmacy award from 2013 to present, 15 of 26 rely on Kirby Lester prescription dispensing technology. Winning pharmacies (including national chains, regional chains and independent pharmacies) deploy a wide range of Kirby Lester automation to dispense prescriptions, from the company's KL1 "gold standard" tablet counters to scan-verification devices and KL60 and KL100 pharmacy robotic automation.
Kirby Lester customers have won 58% of these national awards since 2013:

AmerisourceBergen Good Neighbor Pharmacy of the Year
Cardinal Health Independent Pharmacy Best Practices Competition
Chain Drug Review Retailer of the Year
McKesson Pharmacy Of The Year
Medicine Shoppe International Franchisee of the Year
NACDS Harold W. Pratt Award
NACDS Sheldon W. Fantle Lifetime Achievement Award
NCPA Willard B. Simmons Pharmacist of the Year
NCPA Prescription Drug Safety Award
Frank Iannarone III, owner of Madison Pharmacy in Madison, NJ, received the 2014 NCPA Prescription Drug Safety Award. He has used Kirby Lester counting devices for 20 years, the latest being the KL1Plus with scan-verification to prevent errors. When asked how successful pharmacy owners approach the decision to adopt new technology, Mr. Iannarone replied, "Everyone has to make their own decision and weigh the price of new technology. But when I saw how the KL1Plus could add yet another layer of safety checks to our process and make it that much harder for someone to make a mistake, I thought it was well worth the investment."
Kirby Lester has partnered with community pharmacies since introducing the first tablet counter in 1971.
About Kirby Lester
Kirby Lester is a leading developer and provider of medication tablet/pill counters and robotic dispensing technology. Kirby Lester products significantly improve medication counting accuracy and reduce labor time associated with medication dispensing and prescription fulfillment. Kirby Lester products can be found in more than 40,000 retail, hospital, specialty, and mail order pharmacies in more than 40 countries. Kirby Lester is headquartered in Lake Forest, IL and is a division of Capsa Solutions, LLC. Capsa Solutions is a worldwide leader in developing innovative products to mobilize the healthcare clinical and medication control processes. To learn more, visit http://www.kirbylester.com or call 800-641-3961.