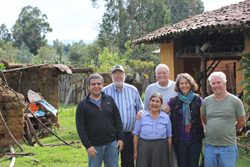 ... to promote family preservation and reunification and most importantly, save children's lives in Peru.
Madison, Wisconsin (PRWEB) August 18, 2015
Cornerstone is well known and highly regarded in its medical mission support throughout the world and the Peru medical missions will have a life changing effect in Peru. Donations start at just $1.00 and Cornerstone is hoping that its fundraising campaign will move through social media to all of those who have a love for children and the willingness to donate to save them.
Cornerstone requires donations, prayers and forwarded social media connections of all types. Please help spread the word and make a donation from your heart. God's blessing from Cornerstone.
Interested parties may review the context and content of its Indiegogo crowd funding site here: https://www.indiegogo.com/projects/urgent-new-hospitals-to-save-children-in-peru#/story
Interested parties may review the context and content of its auction here: http://www.ebay.com/itm/-/171897481666
About Cornerstone Alliance Navigators
Cornerstone Alliance Navigators (CAN) has the primary focus of saving the lives of orphan children and keeping underprivileged and less resourced families together in those countries where life's challenges can sometimes be overwhelming for a developing nation. Over the years MedCAN, which is the medical procurement program within CAN, has assisted many organizations that help children in Nicaragua, Honduras, Peru, Uganda, Nigeria, Somalia and just recently Nepal with medical resources. Now, through a new program called "Sonship," CAN hopes to demonstrate how keeping families together is a better long-term solution for the children in countries like Peru. The results of this demonstration project will be meticulously tracked, documented and shared in an upcoming video documentary for use by other missions and missionaries worldwide.
About Alfredo Cerrato
Mr. Cerrato has 23 years of global non-profit and international relations experience with substantial achievements in church-based aid strategies, orphan-care approaches, developing-world church and community development, orphan-care lobbying, and the use of sustainable business models for non-profits. Skills include the ability to cultivate relationships among a diversified set of social and cultural groups, public speaking with an emphasis in vision casting for philanthropic development, proficiency in Spanish and adeptness in European, Asian and Spanish cultures. Mr. Cerrato is able to extrapolate methodologies and conclusions from both statistical data and common practice for application in varied, social, cultural, political, and business contexts. However, Mr. Cerrato is most proud of his ability to lobby governments and churches on behalf of the underprivileged without diminishing the dignity of those represented. Mr. Cerrato is currently President and CEO of Cornerstone Alliance Navigators in Madison, WI, and is working on developing a philanthropic investment matrix (Sonship Matrix) that demonstrates positive and negative outcomes based on "type and focus" variables in an attempt to validate long-term legacy investments that mimic the biblical concept of Sonship.
For further information, please call Gary Bourassa: 608-289-3459, or visit the cornerstone website:
http://www.cornerstonecan.org/