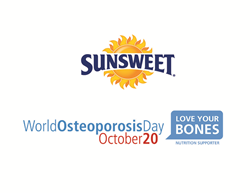 Yuba City, California (PRWEB) August 18, 2015
World Osteoporosis Day (WOD), organized by the International Osteoporosis Foundation (IOF), takes place every year on October 20 to emphasize the importance of bone health. This year, Sunsweet is joining the IOF as a nutrition supporter for WOD, with the goal of helping people lead healthier lives and reduce the preventable risk of osteoporosis.
Bone strength and density are crucial components to overall well-being and can be heavily influenced by nutrition. Emerging research suggests that the nutrients found in prunes can lead to improved bone health*. Namely, a recent study suggests that osteopenic, postmenopausal women who ate 50 grams of prunes per day (about 4-5 prunes) for six months experienced improved bone mineral density at the end of the clinical trial.
Sunsweet, the world's largest handler of dried fruits including prunes, has launched a one-stop shop for those looking to better their bone health. Consumers can now visit sunsweetworldosteoporosisday.com for bone building recipes, exercise and nutrition tips.
The new website offers downloadable materials which include:

Five Easy Snack Recipes to #LoveYourBones
Sunsweet Infographic on Building Better Bones on World Osteoporosis Day
Sunsweet Bone Health Brochure
'Serve Up Bone Strength' World Osteoporosis Day Poster
Media fact sheet & patient brochure from the International Osteoporosis Foundation
Recent bone health research & more!
World Osteoporosis Day, celebrated on October 20, marks a year-long campaign for the IOF. "I am thrilled to hear that Sunsweet has teamed up with the IOF to offer tips, recipes and informational materials to inform ways in which we can all build stronger bones," says Shirin Hooshmand, PhD, Assistant Professor of Nutrition at San Diego State University who has been involved in research related to prunes and bone health.
For more information about Sunsweet or World Osteoporosis Day, please visit: http://www.sunsweetworldosteoporosisday.com
*Metti D, et al. Effects of low dose dried plum (50g) on bone mineral density and bone biomarkers in older postmenopausal women.
About SUNSWEET
Sunsweet Growers Inc., established in 1917, has more than 95 years of experience and heritage in producing the highest quality dried fruits. The Yuba City, Calif.-based cooperative of 270 growers/members is the worldwide leader in prunes and related products. With today's busy lifestyle, people face many challenges throughout their day to eat right. Sunsweet Amaz!n Prunes, Individually Wrapped Ones, Diced Prunes or even PlumSweet Chocolate Prunes are all designed to fit today's need for healthy and convenient food choices. For more on Sunsweet products, visit http://www.sunsweet.com
About World Osteoporosis Day
World Osteoporosis Day is observed annually on 20 October, and marks the beginning of a year-long campaign dedicated to raising global awareness of the prevention, diagnosis and treatment of osteoporosis and related musculoskeletal diseases. Led by the International Osteoporosis Foundation (IOF) whose members include committees of scientific researchers, leading companies, as well as more than 230 patient, medical and research societies, working together to make bone, joint and muscle health a worldwide health-care priority. WOD generates worldwide media and assists with public awareness campaigns organized by national osteoporosis patient and medical societies in over 90 countries, globally. http://www.worldosteoporosisday.org; facebook: worldosteoporosisday; twitter: @iofbonehealth; #LoveYourBones