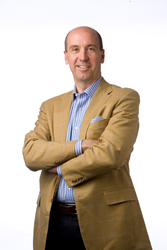 Innovation is going to be essential to the whole agricultural industry moving ahead.
Minneapolis, MN (PRWEB) August 24, 2015
In his book Foresight 20/20 global futurist Jack Uldrich's first chapter is entitled Growing Up Everywhere: the Future of Farming. He discusses aquaponic farming, yield mapping software, and unmanned aerial vehicles (UAVs) as just a few of the future trends that will be taking agriculture by storm in the next few years.
Today Uldrich will address the South Dakota Wheat Growers at the Minneapolis Depot and address the latest trends in technology to affect agriculture.
Uldrich says "As precision agricultural tools and prescriptive planting methodologies become more affordable we can expect to see much higher yield increases in a variety of crops in 2020. They are already quite successful in various places around the world. There's no reason not to apply them to the wheat growing industry as well."
Uldrich's keynote, "The Big AHA: How to Future-Proof Your Business Against Tomorrow's Trends, Today" will discuss the challenges South Dakota agriculturalists face with the concept of future proofing the industry. As a futurist Uldrich encourages his clients to both ponder and embrace cutting edge technology, implement the latest global trends and explore innovative ways to run their businesses.
A regular speaker for agriculturally based audiences Uldrich has addressed Bayer CropScience, the Minnesota Dairy Council, Land O'Lakes, Case IH, The Agricultural Adaptation Council of Ontario, and AgGateway, the California Ag Summit, the Canola Council of Canada's Annual Meeting and the Indiana Farm Bureau. Uldrich firmly has his finger on the pulse of the rapid shifts affecting the world of agriculture.
Additionally, he says Big Data, prescriptive planting, precision agriculture, GMOs and robotics are just a few of the game-changing trends in agriculture today. "As these technologies continue to getter better and more affordable, expect the technology to continue to move from the large corporate farms to even the smallest of family farms and, in the process, it will transform agriculture as we know it."
Jack Uldrich is the founder and "Chief Unlearning Officer" of The School of Unlearning — an international consultancy designed to assist organizations succeed tomorrow by unlearning today. He has served as an advisor to Fortune 1000 companies and has spoken to hundreds of businesses and organizations including ABB, Emerson, BCBS and Verizon Wireless. His upcoming speaking events include Informa Economics, a private financial client in Minneapolis and FCCServices in Nashville, TN.
Parties interested in learning more about Uldrich this event, or his writing or speaking availability are encouraged to go to his website.