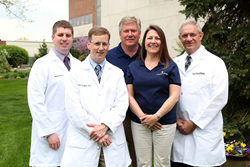 Caring for athletes from around the world provides us with a unique opportunity.
Williamsport, PA (PRWEB) August 18, 2015
As Little League Baseball World Series players and coaches warm up for the games, medical personnel work as a team behind the scenes exercising a strategy that has been perfected over decades. Susquehanna Health's (SH) Dr. John Boll, assistant director of the Williamsport Family Medicine Residency program, serves as medical director for the 2015 Little League Baseball World Series and supervises the team of medical professionals who provide healthcare to athletes, coaches and umpires in the event of illness or injury.
The medical team is a comprehensive package, according to Dr. Boll, including resident physicians from the Williamsport Family Medicine Residency program, a Susquehanna Health Sports Medicine physician and certified athletic trainers, SH Prehospital Services/Susquehanna Regional Emergency Medical Services and faculty and students from Penn College's physician assistant, emergency medical services and paramedics programs.
Medical team preparation for the World Series games begins months in advance with strategic planning meetings, health reports and medical supply inventories. Onsite preparation is already in full swing as the coaches and players arrive. "A lot of thought goes into meeting the needs of these players," says Dr. Boll. "As with anything in medicine, we are always looking ahead of potential emergencies in order to have everything in place."
Care on the Diamond
On the field, Dr. Boll and a team of family practice residents work with the Sports Medicine team including Dr. Edward Gusick, SH Supervisor of Outreach Athletic Training Services Mike Ludwikowski, MS, ATC and Carmen Terry, MS, ATC to assess and care for athletes, coaches and umpires who may become injured during practices or games. "Our goal is to provide a world-class, major-league experience for these young athletes while they are in our care," says Ludwikowski.
The medical team meets with the coaches and players in advance to get apprised of any pre-existing medical conditions or injuries and to develop rapport. Throughout the series, the physicians and athletic trainers collaborate on care and share medical updates on the athletes receiving treatment. "It's a pretty smooth-running system medically," adds Ludwikowski.
Ludwikowski, who has served on the medical team since 1999 says it's the overall experience that draws him back each year. "It's just a happy experience," he says. "There are 16 teams and everyone's excited to be here. For the umpires, it's a one-time invitation. This is nirvana to them."
Care in the Grove
Dr. Boll also supervises a team of physician assistants (PA) who provide 24-hour, onsite care to ill or injured athletes, coaches and umpires in the infirmary located in the International Grove area of the complex. Injuries generally range from headaches and stomach aches to strains and sprains. Nurses from SH support the physician assistants by volunteering their time during third shift from 11 pm to 7 am.
The PAs supervise and are assisted by a rotation of students from Penn College's physician assistant program, coordinated by instructor Susan Swank-Cashera, MMS, PA-C. "Penn College donates hours upon hours of services through the physician assistant program," says Dr. Boll.
Care in the Stands
Paramedics and EMTs from Susquehanna Regional EMS are supervised by Medical Director Dr. Greg Frailey and assisted by Penn College students in the paramedics program make up a special medical unit stationed below Lamade Stadium. EMS personnel along with support from seven area volunteer ambulance services are onsite to respond to spectators in or around the grandstands in the event of illness or injury or to transport a patient to a medical facility for follow-up care when needed.
SH Prehospital Services Manager Tim Shumbat serves in the Little League's Incident Command Center and has been involved on the medical staff since the 1980s. According to Shumbat, it is not unusual in an average overall event crowd of more than 300,000 fans to provide emergency medical care to victims of heart attack or stroke. The fact that a physician specializing in emergency medicine is onsite is crucial for that reason. "Having Dr. Frailey onsite is especially convenient because patients can often be treated and released. Some can even return to the stands to watch the game," adds Shumbat.
For medical personnel, volunteering their services at the Little League Baseball World Series is a win-win. While they are busy positively impacting the lives of others, their lives are impacted just the same. "Little League is an international experience that brings language challenges and cultural challenges, yet it's an enjoyable experience," says Shumbat.
In addition to developing some familiarity with foreign languages, Ludwikowski says the experience is akin to a family reunion. "I enjoy seeing the coaches, uncles, those working behind the scenes and members of the media. For two weeks each year, you have an opportunity to reunite with people, connect with coaches and even get updates on past players," Ludwikowski explains.
"Caring for athletes from around the world provides us with a unique opportunity," says Dr. Boll. "To our program, it compares to the Olympics on a smaller scale."
About Susquehanna Health
Susquehanna Health is a four-hospital integrated health system including Divine Providence Hospital, Muncy Valley Hospital, Soldiers + Sailors Memorial Hospital and Williamsport Regional Medical Center located in northcentral Pennsylvania. Serving patients from an 11-county region, Susquehanna Health is a healthcare leader and has been recognized at the national and state levels for quality of care. Susquehanna Health offers a wide array of services that include cancer care, heart and vascular care/heart surgery, neurosciences including neurosurgery, orthopedics, urology, OB/GYN, gastrointestinal services, behavioral health, physical rehabilitation, home care, long term care, assisted living and paramedic/ambulance services.